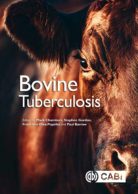 Bovine Tuberculosis
Edited by: Mark Chambers, Animal and Plant Health Agency, UK and University of Surrey, UK, Stephen Gordon, University College Dublin, Ireland, Francisco Olea-Popelka, Western University, Canada, Paul Barrow, University of Surrey, UK
April 2018 | Hardback | 284 Pages | 9781786391520
April 2018 | ePDF 9781786391537 | ePub 9781786391544
Description
This book is contemporary, topical and global in its approach, and provides an essential, comprehensive treatise on bovine tuberculosis and the bacterium that causes it, Mycobacterium bovis. Bovine tuberculosis remains a major cause of economic loss in cattle industries worldwide, exacerbated in some countries by the presence of a substantial wildlife reservoir. It is a major zoonosis, causing human infection through consumption of unpasteurised milk or by close contact with infected animals.

Following a systematic approach, expert international authors cover epidemiology and the global situation; microbial virulence and pathogenesis; host responses to the pathogen; and diagnosis and control of the disease.

Aimed at researchers and practising veterinarians, this book is essential for those needing comprehensive information on the pathogen and disease, and offers a summary of key information learned from human tuberculosis research. It will be useful to those studying the infection and for those responsible for controlling the disease.
Table of contents
1: Bovine Tuberculosis: Worldwide Picture
2: Mycobacterium bovis as the Causal Agent of Human Tuberculosis: Public Health Implications
3: Economics of Bovine Tuberculosis: A One Health Issue
4: The Epidemiology of Mycobacterium bovis Infection in Cattle
5: Mycobacterium bovis Molecular Typing and Surveillance
6: Bovine Tuberculosis in Other Domestic Species
7: Role of Wildlife in the Epidemiology of Mycobacterium bovis
8: Molecular Virulence Mechanisms of Mycobacterium bovis
9: The Pathology and Pathogenesis of Mycobacterium bovis Infection
10: Innate Immune Response in Bovine Tuberculosis
11: Adaptive Immunity
12: Immunological Diagnosis
13: Biomarkers in the Diagnosis of Mycobacterium tuberculosis Complex Infections
14: Vaccination of Domestic and Wild Animals Against Tuberculosis
15: Managing Bovine Tuberculosis: Successes and Issues
16: Perspectives on Global Bovine Tuberculosis Control
Readership
Suitable for researchers of veterinary medicine, zoonoses and infectious disease, as well as veterinarians.
Reviews
There is a strong emphasis on one health throughout the book. The importance of M bovis as a causative agent of zoonotic tuberculosis is highlighted in this book in a way that has not been appreciated in other recent reviews of the organism. This slightly different perspective makes the book a valuable reference for audiences focused on both veterinary and human health. The editors have assembled an impressive panel of leading experts in their respective fields. Journal of the American Veterinary Medical Association, December 2018 - Jodi L. McGill
Like most websites we use cookies. This is to ensure that we give you the best experience possible. Continuing to use
CABI.org
means you agree to our use of cookies. If you would like to, you can learn more about the cookies we use
here
.
Privacy Overview
This website uses cookies to improve your experience while you navigate through the website. Out of these, the cookies that are categorized as necessary are stored on your browser as they are essential for the working of basic functionalities of the website. We also use third-party cookies that help us analyze and understand how you use this website. These cookies will be stored in your browser only with your consent. You also have the option to opt-out of these cookies. But opting out of some of these cookies may affect your browsing experience.