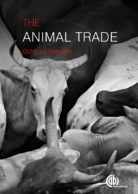 The Animal Trade
Evolution, Ethics and Implications
By: Clive Phillips, Curtin University Sustainable Policy (CUSP) Institute, Australia
September 2016 | Paperback | 208 Pages | 9781786391476
September 2015 | Hardback | 9781780643137
September 2015 | ePDF 9781780643144 | ePub 9781789244557
Description
Trade is an inevitable part of human activity and evolution, but when it involves animals there are important ethical issues that have to be considered. Animal trade is often for economic reasons only, and may be hard to justify ethically. There are significant welfare and environmental costs to animals and human society that must be carefully evaluated before such a trade is sanctioned.

Controversial and thought-provoking, this text focuses on the trade in live and dead animals and animal parts. It examines the facts and figures to quantify the scope of the animal trade, concentrating mainly on farm animals, but also covering captive wildlife and companion animals. The book describes welfare, environmental, economic and cultural issues around this trade, debating important ethical considerations for everyone that uses or is otherwise involved with animals, especially people in animal welfare.
Table of contents
1: The history of animal trade
2: Trade policies for animal products
3: Trade wars, sanctions and discrimination
4: Trade in meat
5: Trade in some key animal products: dairy, wool and fur
6: Trade in live farm animals
7: Disease transmission and biodiversity loss through the trade in farm animals
8: Trade in horses, cats and dogs
9: Trade in wildlife and exotic species
10: The future of animal trade
Readership
Suitable for students and researches of animal science and welfare, as well as anyone interested in the animal trade.
Reviews
"This is an outstanding book that deserves a wide and global audience. The global trade in animals is horrific and incredibly lucrative and must be countered head on." - Marc Berkoff, University of Colorado, USA
"The Animal Trade" provides an accurate, comprehensive and balanced description of past and current practices, human concerns about these practices and the impact of these practices on the animals themselves. Clive Phillips has given us, in very readable form, a book that casts a great deal of much needed light onto the debate. - John Webster, University of Bristol, Uk
I seriously believed that I had an excellent synoptic view of the major ethical issues arising from animal use, until I read this book by Clive Phillips... (he) exhaustively documents the great extent to which the global trade in animals is directly responsible for some of the worst atrocities we perpetrate on other creatures... this is a book that should be read by every animal advocate. - Bernard Rollin, Colorado State University, USA
" It is an excellent book, very well written, and deserves to become the authority in the area for a very long time." - Gail Tulloch, Griffith University, Australia - Gail Tulloch
'In this thought-provoking book, the author reveals the complexities of the global animal trade... This book is highly readable and important and will be of interest to students and researchers of animal science and welfare and the lay reader interested in animal trade'. - Conservation Biology
"thought-provoking, compact and well-researched [...] it is wide-ranging in its excellent description of animal trade from its history, to trade wars and policies, and even the implications of live animal trade on disease transmission and biodiversity loss." - Tanya Stephens, Chair AVA Animal Welfare Trust - Tanya Stephens
studied agriculture at undergraduate level and obtained a PhD in dairy cattle nutrition and behaviour from the University of Glasgow in 1983. He then lectured in farm animal production and medicine at the Universities of Wales and Cambridge, conducting research into cattle and sheep welfare. In 2003 he became the inaugural holder of Australia's Chair in Animal Welfare, at the University of Queensland, and established the Centre for Animal Welfare and Ethics. He was involved in the development and implementation of State and Federal government welfare policies and has published over 150 articles on animal welfare and management in scientific journals and 8 books, as well as editing a book series for Springer on the welfare of animals.
Prof. Phillips was the first professor in animal welfare in Australia, taking up the position at the University of Queensland in 2003. There he established a Centre for Animal Welfare and Ethics in 2005 and devoted his time to developing animal welfare and ethics research and teaching. Prior to emigrating to Australia he lectured at the Universities of Cambridge (1995-2003) and Wales (1984-1995) in the United Kingdom.
His research is concerned with many different animals: livestock during ship transport, dogs and cats in shelters, racehorses and zoo animals and also with our ethical responsibilities towards animals. He is particularly interested in understanding and improving animal welfare in Asia and conducts regular workshops and research projects in China and nearby countries.
In 2010 he established the on-line journal Animals, which focuses on the welfare and ethics of animals and is now the top ranking journal in the field. He also edits a book series on Animal Welfare and Nutrition, published by Springer. In 2009 his book The Welfare of Animals: The Silent Majority was shortlisted for an Australian Museum Eureka prize. He has written and edited fourteen other books, mostly on livestock welfare, behaviour and production, and published over 300 articles in scientific journals. In 2012 he received the Australian Museum Eureka Award for Scientific Research that contributes to Animal Protection.
He currently chairs the Queensland Government's Animal Welfare Advisory Board and previously chaired the UK's Agriculture Ministry Bovine Tuberculosis husbandry review panel. He was the Independent Member of the UK's Milk Development Council and Member of the UK Government's Select Committee to review the zinc-cadmium sulphide dispersion tests conducted by the Ministry of Defence during the Cold War.
Like most websites we use cookies. This is to ensure that we give you the best experience possible. Continuing to use
CABI.org
means you agree to our use of cookies. If you would like to, you can learn more about the cookies we use
here
.
Privacy Overview
This website uses cookies to improve your experience while you navigate through the website. Out of these, the cookies that are categorized as necessary are stored on your browser as they are essential for the working of basic functionalities of the website. We also use third-party cookies that help us analyze and understand how you use this website. These cookies will be stored in your browser only with your consent. You also have the option to opt-out of these cookies. But opting out of some of these cookies may affect your browsing experience.