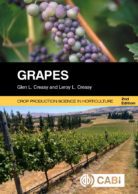 Grapes
2nd Edition
By: Glen Creasy, Sabrosia Winegrowing Services, France, Leroy Creasy, Thornbush Farms, USA
August 2018 | Paperback | 412 Pages | 9781786391360
August 2018 | ePDF 9781786391377 | ePub 9781786391384
Description
""'Creasy and Creasy is the 'go to' reference on my bookshelf when I am searching for thoughts on current production systems. Given the authors' experience, there is good awareness of viticultural practices in different climate zones... I trust readers will find as much benefit and enjoyment with this updated volume as I found with the first."'

Dr. Richard Smart, 'the flying vine-doctor', Cornwall, UK

Fully revised with new content and full-colour figures throughout, the second edition of this successful book contains expanded content for all sections, particularly those covering the impact of climate change, seasonal management, mechanisation and organic management options. There is a new vine balance section, as well as significant updates to rootstocks and grafting. It includes information on wine grapes in addition to grapes for fresh consumption and raisin production.

Covering a broad range of topics from grapevine growth and fruit development, to vineyard establishment, mechanisation and postharvest processing, this book provides historical and current information about the grape industry and sets out the theory and science behind production practices. It is an invaluable resource for grape producers, horticulture and plant science students, as well as enthusiasts of the vine and its products.
Table of contents
1: HISTORY, USES AND PRODUCTION
2: CULTIVARS, ANATOMY AND IMPROVEMENT
3: GRAPEVINE GROWTH AND FRUIT DEVELOPMENT
4: CLIMATIC REQUIREMENTS
5: VINEYARD ESTABLISHMENT
6: SEASONAL MANAGEMENT
7: NUTRITION
8: MECHANIZATION
9: GRAPEVINE PESTS, DISEASES AND DISORDERS
10: HARVEST AND POSTHARVEST PROCESSING
Readership
Suitable for grape producers and winemakers, as well as students of horticulture and viticulture.
Reviews
Have you read this book, or used it for one of your courses? We would love to hear your feedback. Email our reviews team to submit a review.
Like most websites we use cookies. This is to ensure that we give you the best experience possible. Continuing to use www.cabi.org means you agree to our use of cookies. If you would like to, you can learn more about the cookies we use here.