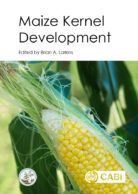 Maize Kernel Development
Edited by: Brian A Larkins, Formerly University of Nebraska, USA
November 2017 | Hardback | 252 Pages | 9781786391216
November 2017 | ePDF 9781786391223 | ePub 9781786391230
£95.00 | €125.00 | $160.00
Description
This is an authoritative book that acts as a guide to understanding maize kernel development. Written by a team of experts, it covers topics spanning pre- and post-fertilization events, embryo and endosperm development, grain filling and maturation, and factors influencing crop yield. It explores the significance of maize and other cereal grains, existing hypotheses and research, and important gaps in our knowledge and how we might fill them. This is a valuable resource for researchers of maize and other cereals, and anyone working on basic or applied science in the fields of seed development, plant genetics, and crop physiology.
Table of contents
1: Kernel Evolution: From Teosinte to Maize
2: Gametophyte Interactions Establishing Maize Kernel Development
3: Endosperm Development and Cell Specialization
4: What Can We Learn from Maize Kernel Mutants?
5: The Basal Endosperm Transfer Layer (BETL): Gateway to the Maize Kernel
6: Aleurone
7: Embryo Development
8: Embryo–Endosperm–Sporophyte Interactions in Maize Seeds
9: Aneuploidy and Ploidy in the Endosperm: Dosage, Imprinting, and Maternal Effects on Development
10: Cell Cycle and Cell Size Regulation during Maize Seed Development: Current Understanding and Challenging Questions
11: Central Metabolism and Its Spatial Heterogeneity in Maize Endosperm
12: Starch Biosynthesis in Maize Endosperm
13: Maize Kernel Oil Content
14: Maize Seed Storage Proteins
15: Determinants of Kernel Sink Strength
16: Natural Variations in Maize Kernel Size: A Resource for Discovering Biological Mechanisms
17: Effects of Drought Stress on Maize Kernel Set
Readership
Suitable for academics, researchers and industrial scientists
Reviews
Have you read this book, or used it for one of your courses? We would love to hear your feedback. Email our reviews team to submit a review.
– Dr. Brian A. Larkins is Associate Vice Chancellor for Life Sciences and holds the John F. Davidson and Marian J. Fuller Presidential Chair in Life Sciences at the University of Nebraska- Lincoln (UNL). He received his B.S. in Education (1969) and Ph.D. (1974) from UNL, and spent 12 years at Purdue University before becoming Head of Plant Sciences at the University of Arizona in 1988. At the University of Arizona, where he was a Regents Professor and held the Porterfield Chair in Plant Sciences, he taught molecular and cellular biology for 15 years. His research in biochemical genetics over the past 40 years has focused on the way in which starch and protein influence the nutritional quality, digestibility and texture of corn. He has received a number of awards for his research, including the Charles A. Shull (1983), Dennis R. Hoagland (1997) and Stephen Hales Prize (2013) from the American Society of Plant Biologists. He received UNL's Alumni Achievement Award (1996), was recognized as a Notable Alumnus of Teachers College (1998), and participated in UNL's Master Week (1996). He is a member of the National Academy of Sciences (1996) and past chairman of the Section on Agriculture, Food and Renewable Natural Resources of the American Association for the Advancement of Sciences (AAAS) (2010). He is a Fellow of AAAS, the American Society of Plant Biologists (2007) and the National Academy of Inventors (2013).
Like most websites we use cookies. This is to ensure that we give you the best experience possible. Continuing to use
CABI.org
means you agree to our use of cookies. If you would like to, you can learn more about the cookies we use
here
.
Privacy Overview
This website uses cookies to improve your experience while you navigate through the website. Out of these, the cookies that are categorized as necessary are stored on your browser as they are essential for the working of basic functionalities of the website. We also use third-party cookies that help us analyze and understand how you use this website. These cookies will be stored in your browser only with your consent. You also have the option to opt-out of these cookies. But opting out of some of these cookies may affect your browsing experience.