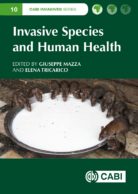 Invasive Species and Human Health
Edited by: Giuseppe Mazza, Università degli Studi di Firenze, Italy, Elena Tricarico, Università degli Studi di Firenze, Italy
July 2018 | Hardback | 208 Pages | 9781786390981
Series : CABI Invasives Series
$140.00 | £85.00 | €110.00
Description
Invasive alien plants and animals are known for their disruption of ecosystems and threat to biodiversity. This book highlights their major impact on human health. This includes not only direct effects through contact with the species via bites, wounds and disease, but also indirect effects caused by changes induced in ecosystems by invasive species, such as more water hyacinth increasing mosquito levels and thereby the potential for malaria. Covering a wide range of case studies from different taxa (animals and plants), and giving an overview of the diverse impacts of invasive species on health in developed and developing countries, the book is a significant contribution that will help in prioritizing approaches to controlling invasive species and mitigating their health effects. It covers invasive plants, marine species, spiders and other arachnids, ticks and dust mites, insects, mosquitos and other diptera, freshwater species (invertebrates and fishes), amphibians and reptiles, birds and mammals. Key Features Collects together the major health impacts for the first time Covers animal and plant invasive species Examines issues in developed and developing countries The broad spectrum of the analyzed case studies will ensure the appeal of the book to a wide public, including researchers of biological invasions, doctors, policy-makers and managers, and students of invasive species in ecology, animal and plant biology and public health medicine.
Table of contents
Introduction: From Local Strategy to Global Frameworks: Effects of Invasive Alien Species on Health and Well-being
1: Poisonous and Venomous: Marine Alien Species in the Mediterranean Sea and Human Health
2: Invasive Alien Plant Impacts on Human Health and Well-being
3: Human Health Impact by Alien Spiders and Scorpions
4: Ticks and Dust Mites: Invasive and Health-affecting Borderline Organisms
5: Bugs, Ants, Wasps, Moths and Other Insect Species
6: The Invasive Mosquitoes of Medical Importance
7: Invasive Freshwater Invertebrates and Fishes: Impacts on Human Health
8: Risks for Human Health Related to Invasive Alien Reptiles and Amphibians
9: Do Alien Free-ranging Birds Affect Human Health? A Global Summary of Known Zoonoses
10: Impact of Alien Mammals on Human Health
11: Climate Change and Increase of Impacts on Human Health by Alien Species
Reviews
Have you read this book, or used it for one of your courses? We would love to hear your feedback. Email our reviews team to submit a review.
– Giuseppe took his PhD at the University of Florence, studying eco-ethology of alien species, in particular the red palm weevil Rhynchophorus ferrugineus, investigating several aspects of this invasive species (e.g. antimicrobial activity, sexual behaviour). He worked also on several aspects of biodiversity and conservation since 2003. He participated in the last years to five international expeditions, two in Malaysia, one in Vietnam, one in Ecuador and one in Kenya for the monitoring of entomo-fauna and the study of alien species. He is collaborating with national and international researchers on alien species, especially on insects and their impacts. Giuseppe is author of 58 peer-reviewed publications (31 with IF).
– Elena studied and took her Master and PhD on Ethology and Animal Ecology at the University of Florence, working mostly on aquatic invertebrates. Since as a Master student, she deals with the biological invasions problem, particularly in freshwater ecosystems, through different perspectives, from behavioural ecology to management aspects. Elena participated to several national and European projects (as DAISIE, IMPASSE) on alien species, and she recently started to work on the predictive aspects of this problem, especially in relation to the climate change. Her main fields of research range from biological invasions to social behaviour in invertebrates, leading her to travel around Europe, USA and Africa, to establish many fruitful collaborations and to produce 60 peer reviewed publications (42 with IF), 5 book chapters and 1 edited book.Currently, she is involved in the COST Action TD1209 (Alien Challenge). Elena was co-responsible for the revision of the freshwater species of the EASIN catalogue and she is on its editorial board.
Like most websites we use cookies. This is to ensure that we give you the best experience possible. Continuing to use www.cabi.org means you agree to our use of cookies. If you would like to, you can learn more about the cookies we use here.