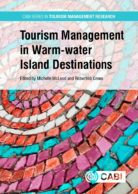 Tourism Management in Warm-water Island Destinations
Edited by: Michelle McLeod, The University of the West Indies, at Mona, Jamaica, Robertico Croes, University of Central Florida, USA
January 2018 | Hardback | 218 Pages | 9781786390929
January 2018 | ePDF 9781786390936 | ePub 9781786390950
Description
Warm-water islands are a cohesive group of islands distinguished by their geography and remoteness, history as former colonial territories, and dependence on external stakeholders for their economic and social development. Warm-water island destinations also have a year-round tourism industry.

These island tourism destinations are facing unprecedented adjustment challenges in the wake of increasing globalization and susceptibility to external shocks, and are in search of appropriate policy responses to that globalization. It is critical for small islands to understand how these challenges affect tourism performance and how they impact their residents.

Tourism Management in Warm-water Island Destinations unearths the critical aspects that contribute to tourism development and growth in islands. Particular emphasis is placed on destinations such as the Caribbean, with lessons learned that are applicable to other island tourism contexts in the Mediterranean, Indian Ocean and the Pacific.

· Presents emerging research themes and methodology;
· Provides insight into factors that result in successful and unsuccessful cases;
· Features a focus on Cuba and its reintroduction to the tourism landscape.

This book provides a platform for emerging systemic perspectives of the various aspects of island tourism, with the view that strategies for the management and development of tourism in island environments can be improved and will be of interest to those studying and researching within destination management.
Table of contents
1: Overview of Tourism in Warm-water Island Destinations
PART I: Island Tourism Transport and Hospitality
2: Island Travel Transportation
3: An Altruistic Behavioural Change Approach to Sustainable Tourism when Funds are Scarce: A Narrative of a Small Business Model
4: Tourist Motivation and Demand for Islands
5: Island Hospitality, Services and Businesses
PART II: Island Tourism Policy, Planning and Development
6: A Comparative Analysis of Tourism Policy Networks
7: Planning for Growth in Islands: the Case of Cuba
8: Subjective Well-being and Tourism Development in Small Island Destinations
PART III: Island Tourism Marketing and Management
9: Tourism in the Seychelles: Trends and Experiences
10: Destination Management: A Network Perspective
11: Music Festivals in Small Island Destinations
12: Developing a Network Analysis Methodology for Island Tourism Research
Reviews
This volume serves as an introductory guide to sustainable tourism management in the warm-water island destinations with emphasis on the economy. There is an urgent need for management research in the Caribbean context. Climate scientists have predicted the impacts sea level rise, shifting seasons and extreme weather events will have on islands; therefore, it is arguable that climate-related issues are urgent management issues. Of particular note is that a number of cases presented in the text came from authors residing in case study destinations, thus, offering insights that are often absent. Overall, Tourism management in warm-water island destinations offers new perspectives to tourism management studies in the Caribbean. - Brooke A. Porter
– Michelled McLeod is Acting Programme Director at the Centre for Hotel and Tourism Management, University of the West Indies (UWI), Nassau, The Bahamas. Her tourism industry experience spans over twenty-five years and she is a graduate of UWI, University of Surrey and Bournemouth University where she obtained a doctorate with no corrections after her Viva. Her present research interests are in the subject areas of tourism, knowledge networks, open data ecosystems, policy networks, destination networks and service productivity.
currently serves as the Associate Dean, Interim Chair of the Tourism, Events & Attractions department as well as the Associate Director of the Dick Pope Sr. Institute for Tourism Studies at the Rosen College of Hospitality Management at the University of Central Florida. Professor Croes has published three books entitled, "The Small Island Paradox: Tourism Specialization as a Potential Solution", "Anatomy of Demand in International Tourism", and his most recent book "Poverty Alleviation through Tourism Development". Additionally, he is a contributor to several books. His fields of interest include: econometrics applications in hospitality, tourism demand analysis/forecasting, tourism economic impact, competitive and sustainable tourism in tourism development analysis, tourism development applied to poverty alleviation and tourism development in small islands and developing countries. Professor Croes is the recipient of the 2015 Thea Sinclair Award.
Like most websites we use cookies. This is to ensure that we give you the best experience possible. Continuing to use
CABI.org
means you agree to our use of cookies. If you would like to, you can learn more about the cookies we use
here
.
Privacy Overview
This website uses cookies to improve your experience while you navigate through the website. Out of these, the cookies that are categorized as necessary are stored on your browser as they are essential for the working of basic functionalities of the website. We also use third-party cookies that help us analyze and understand how you use this website. These cookies will be stored in your browser only with your consent. You also have the option to opt-out of these cookies. But opting out of some of these cookies may affect your browsing experience.