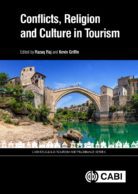 Conflicts, Religion and Culture in Tourism
Edited by: Razaq Raj, Leeds Beckett University, UK, Kevin Griffin, Technological University Dublin, Ireland
October 2017 | Hardback | 186 Pages | 9781786390646
October 2017 | ePDF 9781786390653 | ePub 9781786390660
£89.70 | €115.80 | $147.60
Description
Conflicts, Religion and Culture in Tourism highlights the role of religious tourism and pilgrimage as a tool for improving cultural relations. Helping to form culture and society worldwide, faith plays a vital part in cross-cultural conflict resolution and opening dialogue across peoples. This book shows how faith and activism can respond to the common challenges of peace making and coexistence both within and among the world's many traditions.

The book:
- contains diverse empirical research insights on aspects of religious traditions, conflicts and challenges;
- presents a range of contemporary case studies, across ancient, sacred and emerging tourist destinations as well as new forms of pilgrimage, faith systems and quasi-religious activities;
- provides a global perspective, including contributions from Europe, Asia and the Americas.

Conflicts, Religion and Culture in Tourism provides a timely assessment of the increasing linkages and interconnections between religious tourism and secular spaces on a global stage. Written from a multidisciplinary perspective, it provides an invaluable resource for those studying and researching religion, tourism and cultural management.
Table of contents
1: Introduction to Conflicts Religion and Culture in Tourism
Part I: Conflict, Religion, Culture and Tourism
2: Consciousness in Conflict
3: Defamation of Religion and Freedom of Speech
4: Imagining the Contours of Culture: is Religious Tourism a Precondition for Conflict?
5: The Essence of Community Cohesion through Religious Tolerance
Part II: (re)Claiming Space - Modern Reinstatements of Religion and Pilgrimage
6: Religious Tourism and Pilgrimage in a Non-religious Country: the Czech Republic
7: Pilgrimage, cultural landscape, and tourism in the heritagization of Churches and Christian Sites in Nagasaki
8: Claiming territory: The role of pilgrimage in the struggle for a re-Christianisation of Sweden
9: Cuba and Its Christian Roots: A Case for Understanding Religious Tourism
Part III: Understanding Other : Conflicts Challenges and Issues
10: Visiting Graves, Tombs and Shrines in Islamic Law
11: Religious Spaces as Discrete System: a case of Ayodhya, India
12: Halal Tourism: The Case of Turkey
13: Kosher Tourism. A Greek case study
14: War and Cultural Heritage: The case of religious monuments
15: Appendix - Discussion Points
Reviews
Anyone interested in developing further research in cultural religious tourism, as well as culture and religion as tourism attractions, will find useful themes in this book. No other academic book in the subject area of tourism has been published on the speci?c topics on con?icts, religion, and culture. So this book is a welcomed addition to the literature on the potential of con?icts and religion to contribute to the development and management of cultural tourism. July 2018, Journal of Heritage Tourism - Cristina Jönsson
Dr Razaq Raj is Principal Lecturer in the Leeds Business School. His research interests include community events, outdoor events, economic impacts, religious tourism, cultural festivals and sustainable tourism, cultural diversity in events management and international tourism.
Dr Razaq Raj is the author of the textbooks Religious Tourism and Pilgrimage Management: An International Perspective, Event Management: An integrated and practical approach and Event Management and Sustainability.
Dr Razaq Raj is also a board member of international journals and academic associations.
Editor of International Journal of Religious Tourism and Pilgrimage
Editor of International Journal of Islands Research
Editor of International Journal of Islamic Tourism
Series Editor, CABI Religious Tourism and Pilgrimage Book Series
Dr.Kevin Griffin Bed, MA, PhD. Having studied teaching then tourism organisation and historic settlement I worked in a number of Geography Departments in the Dublin / Kildare area. Since 2001 I have worked at the DIT where I am actively involved in teaching and researching a broad range of tourism topics with particular specialism in both heritage and sustainable tourism.
Editor in Chief, International Journal of Religious Tourism and Pilgrimage
Editor in Chief, International Journal of Tour Guiding Research
Editor in Chief, International Journal of Islands Research
Series Editor, CABI Religious Tourism and Pilgrimage Book Series
Research Interests My main areas of academic interest include:
* Tourism and Sustainability / Environmental Issues
* Heritage Tourism
* Religious Tourism / Pilgrimage
* Social Tourism
* Teaching Methodologies and Tourism
* Local History / Heritage
Like most websites we use cookies. This is to ensure that we give you the best experience possible. Continuing to use
CABI.org
means you agree to our use of cookies. If you would like to, you can learn more about the cookies we use
here
.
Privacy Overview
This website uses cookies to improve your experience while you navigate through the website. Out of these, the cookies that are categorized as necessary are stored on your browser as they are essential for the working of basic functionalities of the website. We also use third-party cookies that help us analyze and understand how you use this website. These cookies will be stored in your browser only with your consent. You also have the option to opt-out of these cookies. But opting out of some of these cookies may affect your browsing experience.