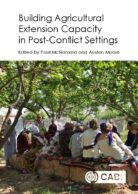 Building Agricultural Extension Capacity in Post-Conflict Settings
Edited by: Paul McNamara, University of Illinois at Urbana-Champaign, USA, Austen Moore, University of Illinois at Urbana-Champaign, USA
May 2017 | Hardback | 268 Pages | 9781786390592
May 2019 | ePDF 9781786390608 | ePub 9781786390615
£89.70 | €115.80 | $147.60
Description
This book investigates the experiences and issues involved with extension systems in post-conflict settings; evaluates the impact of different extension policy approaches and practice in such settings; and identifies the key elements needed to effectively rebuild agricultural extension systems and programs in post-conflict contexts. The chapters contain country-specific case studies that provide a descriptive account but also analyze strategies, successes and failures, and lessons learned. A synthesis chapter provides comparative analysis of insights across post-conflict settings. Overall, the book serves as a collective volume for use by governments, practitioners, and academics in extension policy-making and programming, and contributes to post-conflict, political science, and agricultural extension literature.
Table of contents
1: Agricultural Extension in Post-Conflict Liberia: Progress Made and Lessons Learned
2: Strengthening Agriculture Extension in Post-War Sierra Leone: Progress and Prospects for Increased Extension Impact
3: Challenges in Rebuilding the Agricultural Extension System in the Democratic Republic of Congo
4: Enhancing Food Security in the World's Youngest Nation: A Case Study of Agricultural Extension in South Sudan
5: Mozambique: Rebuilding Agricultural Extension in the Post-Conflict Period (1993–2015)
6: Beyond Enabling Livelihoods: Agricultural Extension in Post-War Rebuilding and Reconciliation in the North of Sri Lanka
7: Agricultural Extension in Post-Conflict Myanmar (Burma): Context and Lessons Learned
8: Agricultural Extension in Iraq, 2003–2012: Perspectives of US Partnerships during Conflict
9: Post-Conflict Rebuilding of Afghanistan's Agricultural Extension System
10: Tajikistan: Creating Agricultural Extension Services in a New Post-Soviet, Post-Conflict State
11: The Development of Extension Services in Post-Soviet, Post-Conflict Georgia
12: Agricultural Extension in Post-Conflict Guatemala: Achievements and Challenges in Building a New National System
13: Synthesis: The Political Economy of an Extension Service Provider on the Frontline of Conflict
Reviews
Have you read this book, or used it for one of your courses? We would love to hear your feedback. Email our reviews team to submit a review.
– Dr. Paul McNamara currently serves as an Associate Professor in the Department of Agricultural Economics at the University of Illinois at Urbana-Champaign after beginning his career at the University with an appointment as an extension specialist. In his current role, Dr. McNamara uses tools from consumer economics and health economics to help consumers, communities, and public-policy makers enhance the welfare of health-care consumers. Other work and research has focused on the economics of agricultural development in a range of countries. Dr. McNamara also serves at the Project Director for the USAID-funded Modernizing Extension and Advisory Services (MEAS) project, which works with country governments to strengthen extension systems and services to farmers. Through MEAS, Dr. McNamara has overseen numerous capacity building exercises, field-level extension programs, and extension-related research. Dr. McNamara received his PhD from the University of Minnesota, MPP from the Kennedy School at Harvard University, and his BA from Wheaton College.
Like most websites we use cookies. This is to ensure that we give you the best experience possible. Continuing to use
CABI.org
means you agree to our use of cookies. If you would like to, you can learn more about the cookies we use
here
.
Privacy Overview
This website uses cookies to improve your experience while you navigate through the website. Out of these, the cookies that are categorized as necessary are stored on your browser as they are essential for the working of basic functionalities of the website. We also use third-party cookies that help us analyze and understand how you use this website. These cookies will be stored in your browser only with your consent. You also have the option to opt-out of these cookies. But opting out of some of these cookies may affect your browsing experience.