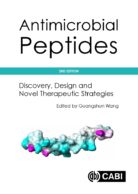 Antimicrobial Peptides
Discovery, Design and Novel Therapeutic Strategies
2nd Edition
Edited by: Guangshun Wang, University of Nebraska Medical Center, USA
September 2017 | Hardback | 288 Pages | 9781786390394
September 2017 | ePDF 9781786390400 | ePub 9781786390417
£108.00 | €144.00 | $180.00
Description
Antimicrobial peptides (AMPs) have attracted extensive research attention worldwide. Harnessing and creating AMPs synthetically has the potential to help overcome increasing antibiotic resistance in many pathogens. This new edition lays the foundations for studying AMPs, including a discovery timeline, terminology, nomenclature and classifications. It covers current advances in AMP research and examines state-of-the-art technologies such as bioinformatics, combinatorial libraries, high-throughput screening, database-guided identification, genomics and proteomics-based prediction, and structure-based design of AMPs.
Thoroughly updated and revised, this second edition contains new content covering: defensins; cathelicidins; anti-MRSA, antifungal, antiviral, anticancer and antibiofilm strategies; combined treatments; adjuvants in vaccines; advances in AMP technologies that cover surface coating to prevent biofilm formation; nanofiber encapsulation technologies for delivery and sustained release; and understanding innate immunity and the basis for immune boosting to overcome obstacles in developing AMPs into therapeutic agents.
Written and reviewed by a group of established investigators in the field, Antimicrobial Peptides is a valuable resource for postgraduate students, researchers, educators, and medical and industrial personnel.
Table of contents
PART I: OVERVIEW OF ANTIMICROBIAL PEPTIDES

1: Discovery, Classification and Functional Diversity of Antimicrobial Peptides

PART II: NATURAL TEMPLATES FOR PEPTIDE ENGINEERING

2: Structural and Functional Diversity of Cathelicidins
3: Disulfide-linked Defensins and Their Therapeutic Potential
4: Lantibiotics: Bioengineering and Applications

PART III: EXPANDING PEPTIDE SPACE: COMBINATORIAL LIBRARY, GENOME-BASED PREDICTION AND DE NOVO DESIGN

5: Discovery of Novel Antimicrobial Peptides Using Combinatorial Chemistry and High-throughput Screening
6: Prediction and Design of Antimicrobial Peptides: Methods and Applications to Genomes and Proteomes

PART IV: MECHANISMS OF ACTION: BIOPHYSICS AND STRUCTURAL BIOLOGY

7: Antimicrobial Peptides: Multiple Mechanisms Against a Variety of Targets
8: Microbial Membranes and the Action of Antimicrobial Peptides
9: Non-membranolytic Mechanisms of Action of Antimicrobial Peptides – Novel Therapeutic Opportunities?
10: Structural Insight into the Mechanisms of Action of Antimicrobial Peptides and Structure-based Design

PART V: NOVEL THERAPEUTIC STRATEGIES: SYNERGY, IMMUNE MODULATION, SURFACE COATING, AND DELIVERY

11: Synergy of Antimicrobial Peptides
12: Surface Immobilization of Antimicrobial Peptides to Prevent Biofilm Formation
13: Sustained Delivery of Cathelicidin Antimicrobial Peptide-Inducing Compounds to Minimize Infection and Enhance Wound Healing
14: Immunomodulatory Activities of Cationic Host Defence Peptides and Novel Therapeutic Strategies
Readership
Suitable for microbiologists, immunologists, infectious disease specialists and those working on antimicrobial agents.
Reviews
"Transforming Travel is superb, touching, fresh and thought-provoking. If you believe in the possibility of improving our world through travel, it is a must read." - Kelley Louise, executive director, Travel for Social Good - Kelley Louise
"A fresh ad optimistic agenda setting book for sustainable tourism. Innovative and full of inspiring examples." - Xavier Font, professor of Sustainable Tourism Communication, University of Surrey - Xavier Font
– Dr. Guangshun Wang is an associate professor in the Department of Pathology and Microbiology at the University of Nebraska Medical Center (UNMC), Omaha, USA. He obtained his Ph.D. in Biophysical Chemistry from Simon Fraser University, Canada in 1997. During his postdoctoral stints at the Florida State University and at the National Institutes of Health (USA), he studied 3D structures of bacterial signal-transducing protein-protein complexes by multidimensional NMR spectroscopy. His current research interests at UNMC include structural, bioinformatic, and functional studies of host defense antimicrobial peptides and their potential applications that benefit human beings and agriculture, including both plants and animals. For this purpose, his laboratory created in 2003, and has been maintaining, the Antimicrobial Peptide Database (http://aps.unmc.edu/AP), a widely utilized tool for research and education in the field. Dr. Wang has edited three books, obtained four patents and published 90 original papers, review articles, and book chapters. Currently, he also serves as an Associate Editor for Current Organic Chemistry and an editorial board member of Pharmaceuticals.
Like most websites we use cookies. This is to ensure that we give you the best experience possible. Continuing to use
CABI.org
means you agree to our use of cookies. If you would like to, you can learn more about the cookies we use
here
.
Privacy Overview
This website uses cookies to improve your experience while you navigate through the website. Out of these, the cookies that are categorized as necessary are stored on your browser as they are essential for the working of basic functionalities of the website. We also use third-party cookies that help us analyze and understand how you use this website. These cookies will be stored in your browser only with your consent. You also have the option to opt-out of these cookies. But opting out of some of these cookies may affect your browsing experience.