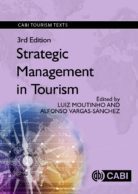 Strategic Management in Tourism
3rd Edition
Edited by: Luiz Moutinho, University of Suffolk, UK and The University of South Pacific, Fiji, Alfonso Vargas-Sánchez, University of Huelva, Spain
February 2018 | Paperback | 378 Pages | 9781786390240
February 2018 | ePDF 9781786390257 | ePub 9781786390264
Series : CABI Tourism Texts
Description
This comprehensive textbook has, at its core, the importance of linking strategic thinking with action in the management of tourism. It provides an analytical evaluation of the most important global trends, as well as an analysis of the impact of crucial environmental issues and their implications.

Fully updated throughout, this new edition:
-Covers forecasting, functional management and strategic planning;
-Includes extra chapters to incorporate a wider spread of important topics such as sustainability, authenticity and crisis management;
-Contains pedagogical features throughout, such as learning objectives, questions and case studies to aid understanding

Now in its third edition, and reviewing the major factors affecting international tourism management, this well-established student resource provides an essential overview of strategic management for students and professionals in the tourism sector.
Table of contents
Part I: Tourism Environment, Economic Development, Forecasting and Trends
1: The new business environment and trends in tourism
2: Futurecast applied to tourism
3: Future economic development in tourism
4: Tourism demand modelling and forecasting
Part II: Integrated Management in Tourism
5: Consumer behaviour in tourism
6: Strategic creativity in tourism business
7: Strategic innovation in tourism business
8: Empowerment human resource management in tourism
9: Financial management in tourism
10: Technology management in tourism
Part III: Strategic Vision and Management in Tourism
11: Strategic thinking in tourism
12: Towards a new strategic paradigm
13: New performance measurements
14: Process-based management in tourism
15: International strategies in tourism
16: Crisis management and strategic implications
Part IV: New Business Ecosystems and Stakeholder-driven Strategy
17: Stakeholder engagement in tourism
18: Tourism authenticity
19: Tourism resources and sustainability
20: New strategic developments in tourism
Readership
Suitable for final year undergraduate and masters' students of tourism.
Reviews
Personally I have found this edition a useful one. Beyond it's relevance in the academics for scholars, researchers and faculty members, it can appeal to policy makers and practitioners alike. This edition will prove an important contribution under the area of strategic management in tourism. Jeet Dogra, December 2018 - Jeet Dogra
Luiz Moutinho (BA, MA, PhD, FCIM) was Professor of BioMarketing and Futures Research at DCU Business School, Dublin City University in Ireland. Previously, and for 20 years, he was appointed Foundation Chair of Marketing at the Adam Smith Business School, University of Glasgow, Scotland. In 2017 he received a degree of Professor Honoris Causa from the University of Tourism and Management Skopje, FY Republic of Macedonia.
Professor Moutinho completed his PhD at the University of Sheffield in 1982. He has since held posts at Cardiff Business School, University of Wales College of Cardiff and in the USA (Cleveland State University, Northern Arizona University, California State University), as well as Visiting Professorship positions at numerous universities in China, Lithuania, Austria, New Zealand, Denmark, Slovenia, Portugal, Hungary, Taiwan, Brazil, Colombia and Cyprus.
He is the Founding Editor-in-Chief of the Journal of Modelling in Management (JM2), as well as associate editor for four other journals, and sits on the Editorial Boards of another 46 international academic journals. He has over 140 articles published in refereed academic journals, 30 books, and more than 9,900 academic citations.
Professor Moutinho's areas of research interest encompass bio-marketing, neuroscience in marketing, EMOWEAR, evolutionary algorithms, human-computer interaction, the use of artificial neural networks in marketing, modelling consumer behaviour, marketing futurecast, and tourism and marketing.
Alfonso Vargas-Sánchez is the promoter and Editor-in-Chief of Enlightening Tourism: A Pathmaking Journal (ET) launched in 2011 and indexed in many repositories and scientific databases. Dr. Vargas-Sánchez's main research interests are in the Strategic Management discipline and in the tourism industry, both in companies and in destinations. At present, he is a full professor at the University of Huelva, where he has been distinguished with the 2002/2003 Teaching Excellence Diploma, and the 2006/2007 Teaching Excellence & Quality Award as a member of an online teaching group. Since 2004 he heads the Research Group named "Innovation and Development Strategies in Tourist Firms" (GEIDETUR), included in the Andalusian Government's Plan of R&D&I. Prof. Vargas-Sánchez has carried out academic activities, both in researching and teaching, in different Universities and higher education institutions around the world, in the five continents. Nowadays, he serves as Visiting Professor in the UK at the York St John Business School and the School of Business and Entrepreneurship of the RAU (where in addition he is a member of its Advisory Board), and in the University of the Algarve (Portugal), where he also is invited researcher and has been member of its General Council. Additionally, he collaborates with the Agency for Assessment and Accreditation of Higher Education, in Portugal, as external expert. He has served in several positions in the University of Huelva, where he is Full Professor, but in addition he leads the Spanish-Portuguese Network of Researchers on Tourism (REINTUR).
Like most websites we use cookies. This is to ensure that we give you the best experience possible. Continuing to use
CABI.org
means you agree to our use of cookies. If you would like to, you can learn more about the cookies we use
here
.
Privacy Overview
This website uses cookies to improve your experience while you navigate through the website. Out of these, the cookies that are categorized as necessary are stored on your browser as they are essential for the working of basic functionalities of the website. We also use third-party cookies that help us analyze and understand how you use this website. These cookies will be stored in your browser only with your consent. You also have the option to opt-out of these cookies. But opting out of some of these cookies may affect your browsing experience.