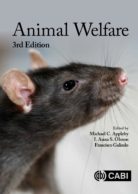 Animal Welfare
3rd Edition
Edited by: Michael Appleby, University of Edinburgh, UK, Anna Olsson, IBMC-i3S, Portugal, Francisco Galindo, National Autonomous University of Mexico (UNAM), Mexico
February 2018 | Paperback | 408 Pages | 9781786390202
February 2018 | ePDF 9781786390219 | ePub 9781786390226
Description
Updated and revised, this bestselling textbook continues to provide a broad introduction to the key topics in the welfare of animals both large and small, farm and companion, wild and zoo. It retains all the popular features of the previous editions with coverage of key issues such as ethics, animal pain and injury, health and disease, social conditions, and welfare dilemmas and problems. Importantly, it also offers practical advice for welfare assessment, with a full section dedicated to the implementation of solutions.

The third edition:

- Contains many more examples of welfare issues in different countries, particularly the implications for smallholders as well as larger scale agriculture
- Covers fish welfare as well as welfare of amphibians, reptiles and invertebrates
- Includes concepts of positive emotion and other positive aspects of welfare
- Focuses on animal welfare and sustainability
- Includes an integrated ebook with additional material and videos

With contributions from renowned international experts and a new editorial team, Animal Welfare, 3rd Edition is an essential resource for students and researchers in animal and veterinary sciences and other disciplines considering the science and practice of animal welfare, and for practitioners and decision-makers worldwide.
Table of contents
-: Introduction
Part I: Issues

1: Animal Ethics
2: Understanding Animal Welfare

Part II: Problems

3: Environmental Challenge and Animal Agency
4: Hunger and Thirst
5: Pain
6: Fear and Other Negative Emotions
7: Frustration and Boredom in Impoverished Environments

Part III: Assessment

8: Health and Disease
9: Behaviour
10: Physiology
11: Preference and Motivation Research
12: Practical Strategies to Assess (and Improve) Welfare

Part IV: Solutions

13: Physical Conditions
14: Social Conditions
15: Human Contact
16: Genetic Selection

Part V: Implementation

17: Economics
18: Regulation, Enforcement and Incentives
19: International Issues
Readership
Suitable for students of animal science, veterinary science and veterinary medicine.
Reviews
Praise for the 2nd Edition: "The book widely informs the changes in animal welfare at the beginning of the third millennium, including its deeper scientific knowledge, and its fertile application in concrete varied living conditions, in a multicultural world with different ways of life. It is a valuable addition to the thesaurus of books about animal welfare. It is not only a concise source of information, but also an appeal call. Full advantage should be taken of it." - Antonin Holub, Agricultura Tropica et Subtropica Vol. 44 (4) 2011 - Antonin Holub
3rd Edition - This book continues to make a valuable contribution to animal welfare science with its updated material, enhanced clarity and extended use of examples both in the book and online,. It provides a clear and concise overview of animal welfare science, it is written in an accessible and convincing manner and it is sufficiently updated to remain a key handbook for animal welfare scientists in all stages of their career for the foreseeable future. Nieky van Veggel, Feb 2019 - Nieky van Veggel
The third edition of Animal Welfare provides readers with an excellent broad introduction to key topics surrounding animal welfare science. Similar to the previous edition, this edition is divided into the following 5 sections: Issues, Problems, Assessment, Solutions, and Implementation. Each section provides evidence-based information and expert commentary on the complex issues surrounding animal welfare. Scientific, ethical, economic, and legal considerations are presented in an insightful and critical manner. This book is an excel-lent primer for veterinarians, graduate students, researchers, and anyone else with an interest in animal welfare and behavior, including professional, paraprofessional, and lay audiences. Journal of the American Veterinary Medical Association, December 2018 - Brenda Griffin
(BSc Zoology, PhD Animal Behaviour) is Chief Scientific Adviser with The World Society for the Protection of Animals, based in London, UK. At the Poultry Research Centre and the University of Edinburgh, UK, he carried out research for 20 years on behaviour and welfare of farm animals, before a period with The Humane Society of the United States in Washington, DC. His most recent book is Long Distance Transport and Welfare of Farm Animals (co-editor, 2008). Dr Appleby is a member of the Farm Animal Welfare Council (Farm Animal Welfare Committee from April 2011) and a Visiting Professor at the University of Plymouth and the Scottish Agricultural College.
Like most websites we use cookies. This is to ensure that we give you the best experience possible. Continuing to use
CABI.org
means you agree to our use of cookies. If you would like to, you can learn more about the cookies we use
here
.
Privacy Overview
This website uses cookies to improve your experience while you navigate through the website. Out of these, the cookies that are categorized as necessary are stored on your browser as they are essential for the working of basic functionalities of the website. We also use third-party cookies that help us analyze and understand how you use this website. These cookies will be stored in your browser only with your consent. You also have the option to opt-out of these cookies. But opting out of some of these cookies may affect your browsing experience.