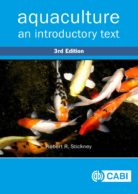 Aquaculture
An Introductory Text
3rd Edition
By: Robert R Stickney, Texas A&M University, USA
December 2016 | Paperback | 352 Pages | 9781786390103
December 2016 | Hardback | 352 Pages | 9781786390097
Description
Providing a broad and readable overview of the subject, this updated third edition of Aquaculture: An Introductory Text covers issues associated with sustainable aquaculture development, culture systems, hatchery methods, nutrition and feeding of aquaculture species, reproductive strategies, harvesting and many other topics. While its main focus is on the culture of fish, molluscs and crustaceans for food, the book also covers other forms of aquaculture, such as the production of seaweeds, recreational fish and ornamental species, and live foods such as algae and rotifers that are used to feed larval shrimp and marine fish. Thoroughly updated and revised, the third edition of this essential textbook now includes: - Increased coverage of species under culture - Increased scope to cover species for enhancement, recreational fishing, commercial fishing and aquaria - Newly developed culture systems - Information on predictive impacts of climate change - Updated aquaculture production statistics Aquaculture remains one of the most rapidly growing agricultural disciplines and this book remains an essential resource for all students of aquaculture and related disciplines.
Table of contents
-: Foreword
1: General Overview of Aquaculture
2: Getting Started
3: Culture Systems
4: Understanding and Maintaining Water Quality
5: Diseases and Parasites of Aquaculture Species
6: Reproduction and Early Rearing
7: Prepared Feeds
8: Aquatic Animal Nutrition
9: A Pot-pourri of Additional Topics
Readership
Suitable for students of aquaculture, fish farming and fish production.
Reviews
Have you read this book, or used it for one of your courses? We would love to hear your feedback. Email our reviews team to submit a review.
Like most websites we use cookies. This is to ensure that we give you the best experience possible. Continuing to use www.cabi.org means you agree to our use of cookies. If you would like to, you can learn more about the cookies we use here.