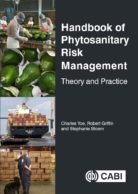 Handbook of Phytosanitary Risk Management
Theory and Practice
By: Charles Yoe, Notre Dame of Maryland University, USA, Robert Griffin, formerly USDA-APHIS-PPQ, USA, Stephanie Bloem, North American Plant Protection Organisation, USA
September 2020 | Hardback | 424 Pages | 9781780648798
October 2020 | ePDF 9781780648804 | ePub 9781780648811
£153.75 | €179.40 | $205.00
Description
Phytosanitary risk management is essential to the global economy as well as the world's ability to feed itself. This book is about understanding the fundamentals of phytosanitary risk management for trade and non-trade issues, and how to manage those risks in an effective and efficient manner that is consistent with the international regulatory framework. Its purpose is to provide the international phytosanitary community and its principal stakeholders with a strong foundation in risk management concepts and a thorough guide to best practices.

Starting with the conceptual background necessary for understanding risk management, this book then covers a risk management model with a detailed description of the structure and processes necessary for best practice risk management in the global economy. This is followed by an in-depth look at the continuum of phytosanitary measures with a laser-like focus on key risk management issues, and the book concludes with a final section devoted to an examination of the most compelling risk management issues of the day.

This book is:
- A comprehensive exposition of phytosanitary risk management.
- Valuable both to the experienced risk manager and to those getting started in the field.
- Written by a team of experts with extensive professional phytosanitary work experience and knowledge of
plant health.

Written for professionals, practitioners and policy makers who work in the international trade of plants and plant products and allied fields, this book provides the global phytosanitary community and its principal stakeholders with a practical guide to best risk management practices.
Table of contents
Part 1: Background Materials
Chapter 1: Introduction
Chapter 2: Risk
Chapter 3: Uncertainty
Chapter 4: Risk Analysis Team
Chapter 5: Risk Managers
Chapter 6: Risk Management and the SPS Agreement
Chapter 7: Consequences and Risk Management
Chapter 8: Risk Management Opportunities
Part 2: Pest Risk Management Model
Chapter 9: Thinking About Risk Management
Chapter 10: Establish a Risk Management Framework
Chapter 11: Risk Manager and Risk Assessor Interaction
Chapter 12: A Phytosanitary Risk Management Model
Chapter 13: Pest Risk Management Through Stages 1 and 2
Chapter 14: Pest Risk Management Through Stage 3
Chapter 15: Uncertainty and Pest Risk Management
Chapter 16: Stakeholders and Risk Communication
Chapter 17: Enterprise Risk Management
Part 3: Risk Management Controls
Chapter 18: Risk Management
Chapter 19: Certification
Chapter 20: Inspection and Risk-Based Sampling
Chapter 21: Treatments
Chapter 22: Pest-free Concepts
Chapter 23: Irradiation
Chapter 24: Post-Harvest Processing and Handling
Chapter 25: Post-Entry Measures
Chapter 26: Prohibition
Chapter 27: Systems Approaches
Part 4: Issues in Pest Risk Management
Chapter 28: Hazard Analysis vs. Risk Analysis
Chapter 29: Economic Consequence Assessment
Chapter 30: Knowledge Management
Chapter 31: Commodities for Consumption
Chapter 32: Genetically Modified Organisms and Invasive Species
Chapter 33: A New Framework
Readership
Suitable for institutions and organisations, professionals, practitioners and policy makers interested in phytosanitary risk research. Industry, NGO's, and other stakeholders who work with the phytosanitary regulators
Reviews
Have you read this book, or used it for one of your courses? We would love to hear your feedback. Email our reviews team to submit a review.
Like most websites we use cookies. This is to ensure that we give you the best experience possible. Continuing to use
CABI.org
means you agree to our use of cookies. If you would like to, you can learn more about the cookies we use
here
.
Privacy Overview
This website uses cookies to improve your experience while you navigate through the website. Out of these, the cookies that are categorized as necessary are stored on your browser as they are essential for the working of basic functionalities of the website. We also use third-party cookies that help us analyze and understand how you use this website. These cookies will be stored in your browser only with your consent. You also have the option to opt-out of these cookies. But opting out of some of these cookies may affect your browsing experience.