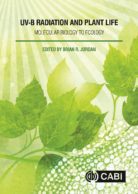 UV-B Radiation and Plant Life
Molecular Biology to Ecology
Edited by: Brian Jordan, Lincoln University, New Zealand
October 2017 | Hardback | 192 Pages | 9781780648590
October 2017 | ePDF 9781780648606 | ePub 9781780648613
£100.45 | €132.15 | $169.15
Description
Ultraviolet-B radiation (UV-B) has profound effects on plant growth and development, and exposure varies with ozone depletion and across geographic regions, with ecosystem and agricultural consequences. This book deals with large-scale impacts but also how UV-B affects plants at the molecular level is also fascinating, and the UV-B photoreceptor has only recently been characterised. While UV-B radiation can be damaging, it also has a more positive role in plant photomorphogenesis. Consequently UV-B treatments are being developed as innovative approaches to improve horticulture. This book is a timely synthesis of what we know and need to know about UV-B radiation and plants.
Table of contents
Part 1: The UV-B Environment

1: Towards an Understanding of the Implications of Changing Stratospheric Ozone, Climate and UV Radiation
2: Quantification of UV Radiation
3: UV Radiation and Terrestrial Ecosystems: Emerging Perspectives

Part 2: UV-B Induced Changes to Plant Physiology, Morphology and Secondary Metabolism

4: UV-B Changes in Secondary Plant Metabolites
5: UV-B Induced Morphological Changes – an Enigma
6: Plant Responses to Fluctuating UV Environments

Part 3: The Biochemistry and Molecular Biology of UV-B responses

7: The Effects of UV-B on the Biochemistry and Metabolism of Plants
8: Discovery and Characterization of the UV-B Photoreceptor UVR8
9: UV-B Signal Transduction from Photoperception to Response

Part 4: UV-B Impact on Agriculture and Horticulture

10: The Effects of Ultraviolet-B on Vitis vinifera – How Important is UV-B for Grape Biochemical Composition?
11: Turning UV Photobiology into an Agricultural Reality
Readership
Suitable readership at post-graduate and research level, but may also be of interest to senior undergraduates, PhD students and university libraries.
Reviews
Have you read this book, or used it for one of your courses? We would love to hear your feedback. Email our reviews team to submit a review.
– Brian Jordan is Professor of Plant Biotechnology at Lincoln University, New Zealand and has over 30 years of experience in plant biochemistry and molecular biology. Professor Jordan was a scientist at Horticulture Research International, UK for 14 years and during that time carried out research at the Carnegie Institute, Stanford University, USA, North Carolina State University, USA and CSIRO Canberra, Australia. Throughout his research career he has focused on how light regulates plant growth and development. In particular, he has made a major contribution to understanding the molecular responses of plants to ultraviolet radiation.
Since going to New Zealand in 1994, Professor Jordan has worked for Crop & Food Research as a programme leader in genetic engineering and as the Food Science & Technology Divisional Manager. In 1998, he became Director, Nutrition and Health in the Institute of Food, Nutrition and Human Health at Massey University. Professor Jordan acted as a United Nations Environmental Programme reviewer in 1998 and 2006 on the impact of ultraviolet radiation. In January 2001, he was appointed Director of the Soil, Plant and Ecological Sciences Division and Professor of Plant Biotechnology at Lincoln University and remained as a senior manager until 2008; after which he returned to research and teaching. From 2006-2008, he was part of the New Zealand Specific Support Action, Food-Frenz. He has also been part of two European COST-ACTIONS: on viticulture and ultraviolet radiation.
Like most websites we use cookies. This is to ensure that we give you the best experience possible. Continuing to use
CABI.org
means you agree to our use of cookies. If you would like to, you can learn more about the cookies we use
here
.
Privacy Overview
This website uses cookies to improve your experience while you navigate through the website. Out of these, the cookies that are categorized as necessary are stored on your browser as they are essential for the working of basic functionalities of the website. We also use third-party cookies that help us analyze and understand how you use this website. These cookies will be stored in your browser only with your consent. You also have the option to opt-out of these cookies. But opting out of some of these cookies may affect your browsing experience.