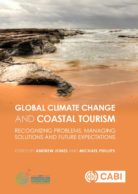 Global Climate Change and Coastal Tourism
Recognizing Problems, Managing Solutions and Future Expectations
Edited by: Andrew Jones, L-Universita ta' Malta, Malta, Michael Phillips, University of Wales, UK
November 2017 | Hardback | 360 Pages | 9781780648439
November 2017 | ePDF 9781780648446 | ePub 9781780648453
£87.15 | €112.75 | $143.50
Description
Building upon the book Disappearing Destinations (Jones and Phillips 2010) and its conclusion that promoted the need to recognize problems, meet expectations and manage solutions Global Climate Change and Coastal Tourism explores current threats to, and consequences of, climate change on existing tourism coastal destinations.

Part 1 of the book provides a theoretical platform and addresses topics such as sustainability, tourism impacts, governance trade and innovation and how the media addresses climate change and tourism. It also assesses management and policy options for the future sustainability of threatened tourism coastal destinations. Part 2 presents case studies from all regions of the world (Europe, The Americas, Asia, Africa and Australasia) which synthesise findings to make recommendations that can be used to promote strategies that ameliorate projected impacts of climate change on coastal tourism infrastructure and in turn promote the future sustainability of coastal tourism destinations.

This is a timely and informative text with appeal to researchers, undergraduate and post graduate students of tourism management, tourism planning, sustainable tourism development and leisure management, coastal tourism/management, environmental management/planning, geography, coastal zone management or climate change studies.
Table of contents
1: Introduction – Coastal Tourism and Climate Change: Current Narratives and Discourse. A. Jones
2: A Rapidly Changing Climate in an Era of Increasing Global Carbon Emissions. C. Galdies
3: Integrated Coastal Zone Management: Policy Evolution and Effective Implementation? M.R. Phillips
4: Climate Change and Tourism Sustainability – The Red Queen Theory: Tourists as Climate Refugees. I. Jenkins
5: Climate Change and its Impacts on Coastal Tourism: Regional Assessments, Gaps and Issues. C. Michael Hall
6: Assessing the Climate Change Risk of a Coastal-island Destination. D. Scott and S. Verkoeyen
7: Climate Change Governance and Trade Policy: Challenges for Travel and Tourism in Small Island Developing States. K. Nurse, D. Edwards and D. Dookie
8: Case Study Ireland: Coastal Tourism and Climate Change in Ireland. J.A.G Cooper and S.W. Boyd
9: Case Study Italy: Tourism Management of Climate Change in the Mediterranean Region: Adaptation Strategies in Sardinia and Sicily. R. Cannas
10: Case Study Portugal: Addressing Tourism Development and Climate Change in Small Atlantic Islands: the Case of the Azores. H. Calado, P. Borges, K. Ng and M. Vergílio
11: Case Study Malta: Climate Change and Tourism: Risks, Hazards and Resilience – an Island Perspective. A. Jones
12: Case Study Iceland: Climate Change and Tourism Sustainability and its Effects on Icelandic Coastal Destinations. I. Jenkins
13: Case Study Barbados: Policy, Practice and Science: Perspectives on Climate Change and Tourism in Barbados - Conflict or Congruence? J. Cumberbatch, L. Nurse and K. Francis
14: Case Study Mexico: Riviera Maya – How is the Riviera Maya Tourism Industry Dealing with Climate Change?An Overview of Non-climatic Stressors that Determine the Destination's Vulnerability to Climate Change. R. Santos-Lacueva, S. Anton Clavé & Ò. Saladié
15: Case Study Dubai: A Theme Park Approach to Climate Change. A. Anthonisz and T. Heap
16: Case Study Vietnam: Climate Change Impacts on UNESCO World Heritage – the Case of Hoi An Ancient Town. H.T. Bui and Tuan-Anh Le
17: Case Study Sri Lanka: Climate Change Challenges for the Sri Lankan Tourism Industry. J. Buultjens, I. Ratnayake and W.K. Athula Gnanapala
18: Case Study Bangladesh: Addressing Climate Change Effects on Coastal Tourism in St Martin's Island of Bangladesh. A. Hassan and R. Rahimi
19: Case Study Vietnam: Climate Change Vulnerability Assessment of Coastal Tourism in Cu Lao Cham Island V. Dao Truong and Anh Le
20: Case Study New Zealand: Planning Responses to Coastal Climate Change Risks: the Case of Christchurch and the Akaroa Harbour, New Zealand. C. Michael Hall
21: Case Study Turkey: Climate Change and Coastal Tourism: Impacts of Climate Change on the Turquoise Coast. O. Cenk Demiroglu, A. Akbas, M. Tufan Turp, T. Ozturk, N. An and M. Levent Kurnaz
22: Case Study Israel: Coastal Tourism, Coastal Planning and Climate Change in Israel. C. Michael Hall and Yael Ram
23: Case Study Antarctica: Up Against the Ice Barrier: Antarctic Tourism Operators Prepare for the Polar Shipping Code. J. Jabour
24: Case Study Morocco: Mediterranean Morocco, a Vulnerable Development Called into Question. C. Perelli
25: Case Study Zanzibar: Climate Change and Tourism in Zanzibar: Interrogating Impacts and Interventions. T. Said, H. Muzaini and R. van der Duim
26: Climate Change and Coastal Tourism – a Global Perspective: Recognizing Problems – Managing Solutions – Future Expectations. A. Jones
Readership
Suitable for researchers and students of travel and tourism, tourism management, tourism planning, sustainable tourism development and leisure management, coastal tourism/management, environmental management/planning, geography, coastal zone management or climate change studies
Reviews
"The book's strength lies within its variety of case studies which allow for comparative applications. Further, the cases presented in the book address the underrepresentation of cases from lesser-developed regions. Overall, the combination of theory and cases presents a valuable reference tool for key actors in coastal environments." - Brooke A. Porter, 1 Apr 2018. Journal of Ecotourism. - Brooke A. Porter
Andrew is currently a resident professor and Head of Department for the Institute for Tourism Travel and Culture at The University of Malta. He has also held positions at The University of Wales, International Faculty Cardiff, Swansea Business School and the University of Brunei. In his early career he qualified in Urban and Regional Planning and Economic Development and initially worked within these fields both in the public and private sectors before taking up a position at the University of Wales where he taught planning , economic regeneration, environmental management and tourism development. He has professional experience in planning, environmental management and tourism management at international, regional and local levels and has been an enthusiastic contributor to the academic tourism community within the UK and internationally for over thirty years. In this respect he has been an active practitioner, researcher and teacher since 1981. In his positions with both the University of Wales and University of Malta he has been involved in the University's collaborative programmes and partnerships in Greece, China, and India, Hong Kong, Singapore, Uzbekistan, Malaysia, Japan, Germany and the UK.
He completed his Ph.D. on research investigating the relationship and tensions between cultural regeneration, the environment and the development of niche markets for tourism. Research associated with his academic experience over the last twenty years and the consequent research out puts have allowed him to develop a research profile based upon strategic/environmental planning, regeneration, economic and regional development, sustainable planning policy and the relationship between these dynamic processes and tourism development and in turn the development of sustainable/cultural (tourism) niche markets.
As such he has carried out numerous consultancy projects relating to economic regeneration, tourism planning, cultural regeneration and sustainability and has published a number of industry and academic articles, reports and conference papers. To this end he has travelled widely and has contributed to international conferences in Europe, North America, Asia and Australasia and spent two years as a visiting research fellow at the University of Brunei.
Professor Mike Phillips has a BSc in Civil Engineering, an MSc in Environmental Management and a PhD in Coastal Processes and Geomorphology, which he has used in an interdisciplinary way to assess current challenges of living and working on the coast. He is Pro Vice-Chancellor (Research, Innovation, Enterprise and Commercialisation) at the University of Wales Trinity Saint David and also leads their Coastal and Marine Research Group. Professor Phillips' research expertise includes coastal processes, morphological change and adaptation to climate change and sea level rise, and this has informed his engagement in the policy arena. He has given many key note speeches, presented at many major international conferences and evaluated various international and national coastal research projects. Consultancy contracts include beach monitoring for the development of the Tidal Lagoon Swansea Bay, assessing beach processes and evolution at Fairbourne (one of the case studies in this book), beach replenishment issues, and techniques to monitor underwater sediment movement to inform beach management. Funded interdisciplinary research projects have included adaptation strategies in response to climate change and underwater sensor networks. He has published >100 academic articles and in 2010 organised a session on Coastal Tourism and Climate Change at UNESCO Headquarters in Paris in his role as a member of the Climate, Oceans and Security Working Group of the UNEP Global Forum on Oceans, Coasts, and Islands. He has successfully supervised many PhD students, and as well as research students in his own University, advises PhD students for overseas universities. These currently include the University of KwaZuluNatal, Durban, University of Technology, Mauritius and University of Aveiro, Portugal. Professor Phillips has been a Trustee/Director of the US Coastal Education and Research Foundation (CERF) since 2011 and he is on the Editorial Board of the Journal of Coastal Research. He is also an Adjunct Professor in the Department of Geography, University of Victoria, British Columbia and Visiting Professor at the University Centre of the Westfjords. He was an expert advisor for the Portuguese FCT Adaptaria (coastal adaptation to climate change) and Smartparks (planning marine conservation areas) projects and his contributions to coastal and ocean policies included: the Rio +20 World Summit, Global Forum on Oceans, Coasts and Islands; UNESCO; EU Maritime Spatial Planning; and Welsh Government Policy on Marine Aggregate Dredging. Past contributions to research agendas include the German Cluster of Excellence in Marine Environmental Sciences (MARUM) and the Portuguese Department of Science and Technology.
Like most websites we use cookies. This is to ensure that we give you the best experience possible. Continuing to use
CABI.org
means you agree to our use of cookies. If you would like to, you can learn more about the cookies we use
here
.
Privacy Overview
This website uses cookies to improve your experience while you navigate through the website. Out of these, the cookies that are categorized as necessary are stored on your browser as they are essential for the working of basic functionalities of the website. We also use third-party cookies that help us analyze and understand how you use this website. These cookies will be stored in your browser only with your consent. You also have the option to opt-out of these cookies. But opting out of some of these cookies may affect your browsing experience.