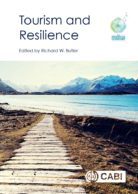 Tourism and Resilience
Edited by: Richard Butler, Strathclyde University, UK
June 2017 | Hardback | 242 Pages | 9781780648330
June 2017 | ePDF 9781780648347 | ePub 9781780648354
£89.70 | €115.80 | $147.60
Description
This is the first book to address the concept of resilience and its specific application and relevance to tourism, in particular tourism destinations. Resilience relates to the ability of organisms, communities, ecosystems and populations to withstand the impacts of external forces while retaining their integrity and ability to continue functioning. It is particularly applicable to tourism destinations and attractions which are exposed to the potentially harmful and sometimes severe effects of tourism development and visitation, but which also can experience increased resilience from the economic benefits of tourism.

Phenomena such as destination communities, wildlife populations and ecosystems are discussed, as well as the ability of places and communities to use tourism and its infrastructure to recover from disasters such as tsunamis, earthquakes, unrest and disease. This book:

· Compares the relevance of resilience to sustainability
· Contains contributions from many of the leading international authors
· Brings together varying viewpoints of both conceptual and applied issues
· Includes example case studies from Whistler, western Canada; Sri Lanka; Purnululu National Park, Australia; and the remote Pitcairn Island in the Pacific

Tourism and Resilience is relevant for researchers, students and practitioners in tourism and related fields such as development studies, geography, sociology, anthropology, economics and business/management.
Table of contents
PART ONE: INTRODUCTION
1: INTRODUCTION
2: THE DEVELOPMENT OF RESILIENCE THINKING
3: COMMUNITY TOURISM RESILIENCE: SOME APPLICATIONS OF THE SCALE, CHANGE AND RESILIENE (SCR) MODEL
PART 2: SOCIO-ECOLOGICAL RESILIENCE
4: SOCIO-ECOLOGICAL BALANCE IN COMMUNITY BASED TOURISM EXPERIENCES: A RESARCH PROPOSAL
5: RESILIENCE AND DESTINATION GOVERNANCE
6: RESILIENCE AND DESTINATION GOVERNANCE: WHISTLER, B.C.
PART 3: RESILIENCE AND RESPONSE TO DISASTERS
7: SRI LANKAN TOURISM DEVELOPMENT AND IMPLICATIONS FOR RESILIENCE
8: RESILIENCE, TOURISM AND DISASTERS
9: RESILIENCE AND PERCEPTIONS OF PROBLEMS IN ALPINE REGIONS
PART 4: RESILIENCE IN PROTECTED NATURAL AREAS AND INSULAR LOCATIONS
10: Tourism Resilience in UK National Parks
11: RESILIENCE AND PROTECTED AREA TOURISM IN PURNULULU NATIONAL PARK: UNDERSTANDING INTERACTIONS WITH A FOCUS ON COMMUNITY BENEFITS
12: RESILIENCE AND TOURISM IN ISLANDS: INSIGHTS FROM THE CARIBBEAN
13: RESILIENCE AND TOURISM IN REMOTE LOCATIONS: PITCAIRN ISLANDS
PART 5: RESILIENCE AND THE TOURISM INDUSTRY
14: ISSUES OF RESILIENCE, SUSTAINABILITY AND RESPONSIBILITY IN TOURISM
15: BETTING ON CASINO TOURISM RESILIENCE: A CASE STUDY OF CASINO EXPANSION IN MACAO AND THE ASIA REGION
16: RESILIENCE AS NEW POLITICAL REALITY
PART 6: CONCLUSIONS
Readership
Suitable for academics, students and researchers within tourism.
Reviews
Have you read this book, or used it for one of your courses? We would love to hear your feedback. Email our reviews team to submit a review.
Richard Butler was educated at Nottingham University and the University of Glasgow (PhD Geography 1973), and spent thirty years at the University of Western Ontario in Canada as Professor and Chairman of the Department of Geography, and then the University of Surrey, where he was Professor of Tourism from 1997 to 2005. He is currently Emeritus Professor of International Tourism in the Strathclyde Business School, University of Strathclyde, Glasgow. He has published a large number of journal articles, fourteen books on tourism and many chapters in other books. His fields of interest are the development process of tourist destinations the impacts of tourism, carrying capacity and sustainability, and tourism in remote areas and islands.
Like most websites we use cookies. This is to ensure that we give you the best experience possible. Continuing to use
CABI.org
means you agree to our use of cookies. If you would like to, you can learn more about the cookies we use
here
.
Privacy Overview
This website uses cookies to improve your experience while you navigate through the website. Out of these, the cookies that are categorized as necessary are stored on your browser as they are essential for the working of basic functionalities of the website. We also use third-party cookies that help us analyze and understand how you use this website. These cookies will be stored in your browser only with your consent. You also have the option to opt-out of these cookies. But opting out of some of these cookies may affect your browsing experience.