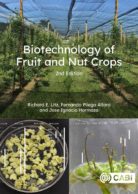 Biotechnology of Fruit and Nut Crops
2nd Edition
Edited by: Richard Litz, University of Florida, USA, Fernando Pliego-Alfaro, Universidad de Málaga, Spain, Jose Ignacio Hormaza, IHSM la Mayora, Spain
January 2020 | Hardback | 704 Pages | 9781780648279
January 2020 | ePDF 9781780648286 | ePub 9781780648293
£199.90 | €261.40 | $328.00
Description
This book covers the biotechnology of all the major perennial fruit and nut species. Since the publication of the first edition of this book in 2005, there has been significant progress in cell culture, genomics and genetic transformation for many of these species. This book covers these biotechnologies and also traditional ones, such as regeneration pathways, protoplast culture, in vitro mutagenesis, and ploidy manipulation that have been applied to many of these species. Three species, Diospyros kaki (persimmon), Punica granatum (pomegranate) and Eriobotrya japonica (loquat) are included for the first time, and several Prunus species now receive separate coverage. The species are organized by plant family to facilitate comparisons among related ones. Each species is discussed in relation to its family and its related wild forms, and most are accompanied by full colour illustrations. This book is a vital resource for those working on the improvement of perennial fruit, nut and plantation crops.

The book features:

Detailed coverage of major perennial fruit and crop species.
Coverage of traditional and new biotechnologies.
Full colour illustrations to aid identification

This book is an essential resource for scientists and postgraduate students who are engaged in the improvement of perennial fruit, nut and plantation crops and will also be an important accession for university and agricultural research libraries.
Table of contents
1: Actinidiaceae

1.1: Actinidia deliciosa Kiwifruit

2: Anacardiaceae

2.1: Anacardium occidentale Cashew
2.2: Mangifera indica L. Mango
2.3: Pistacia vera L. Pistachio

3: Annonaceae

3.1: Annona squamosa Sugar Apple, Annona cherimola Cherimoya and Annona muricata Soursop

4: Arecaceae

4.1: Cocos nucifera L. Coconut
4.2: Elaeis guineensis Oil Palm
4.3: Phoenix dactylifera L. Date Palm

5: Bromeliaceae

5.1: Ananas comosus Pineapple

6: Caricaceae

6.1: Carica papaya L. Papaya

7: Clusiaceae

7.1: Garcinia mangostana Mangosteen

8: Ebenaceae

8.1: Diospyros kaki Persimmon

9: Ericaceae

9.1: Vaccinium spp. Blueberry and Cranberry

10: Fagaceae

10.1: Castanea spp. Chestnut

11: Juglandaceae

11.1: Carya illinoensis Pecan
11.2: Juglans regia L. Walnut

12: Lauraceae

12.1: Persea americana Avocado

13: Malvaceae

13.1: Theobroma cacao L. Cacao

14: Musaceae

14.1: Musa Banana and Plantain

15: Myrtaceae

15.1: Psidium guajaba L. Guava

16: Oleaceae

16.1: Olea europaea Olive

17: Oxalidaceae

17.1: Averrhoa carambola L. Carambola

18: Passifloraceae

18.1: Passiflora edulis Passionfruit

19: Rosaceae

19.1: Eriobotrya japonica Loquat
19.2: Fragaria × ananassa Strawberry
19.3: Malus × domestica Apple
19.4: Prunus sp. Peach and Nectarine
19.5: Prunus sp. Apricot
19.6: Prunus sp. Plum
19.7: Prunus Cherry
19.8: Prunus sp. Almond
19.9: Pyrus Pear and Quince
19.10: Rubus spp. Cane Fruit

20: Rutaceae
21: Sapindaceae

21.1: Dimocarpus longan Longan and Litchi chinensis Litchi

22: Vitaceae
Reviews
Have you read this book, or used it for one of your courses? We would love to hear your feedback. Email our reviews team to submit a review.
Richard Litz is a professor emeritus in the Department of Horticultural Sciences of the University of Florida. From 1976 until his retirement in 2011, he was at the Tropical Research and Education Center in Homestead, where he developed and led a research programme that focused on biotechnology of tropical fruit crops, e.g., avocado, carambola, litchi, longan, mango and papaya. His laboratory hosted postgraduate students, postdoctoral fellows and visiting scientists from 16 countries in the tropics and subtropics of the Americas, Africa and Asia. He has edited seven books about biotechnology of fruit crops and also about mango and has authored more than 150 refereed publications and book chapters. In retirement, Richard lives in a village on the coast of Maine.
Fernando Pliego-Alfaro is Professor of Plant Physiology at the the Botany and Plant Physiology Department, Faculty of Sciences (University of Malaga) and researcher of the Subtropical Fruit Crops Department at Instituto de Hortofruticultura Subtropical y Mediterránea La Mayora (IHSM). His research has focused on the development of regeneration and transformation protocols of subtropical and temperate fruit crops such as avocado, olive and strawberry, contributing to establish the bases for biotechnological breeding. His current interests focus on improving tolerance of these crops to soil borne pathogens. He has been involved in numerous research projects and has authored more than 150 refereed publications and book chapters; his postgraduate training activities include supervision of 20 Ph.D. and numerous M. Sc. thesis, of students from different countries.
Jose I. Hormaza is a Research Professor and Head of the Subtropical Fruit Crops Department at the Instituto de Hortofruticultura Subtropical y Mediterránea La Mayora (IHSM), a joint Research Institute between the Spanish Council of Scientific Research (CSIC) and the University of Malaga. His research program focuses on genetic diversity, germplasm characterization, conservation and utilization, and reproductive biology in tropical, subtropical and temperate fruit tree crops. During his scientific career, he has been involved in numerous national and international research projects. He has authored more than 150 refereed publications and book chapters, supervised more than 15 Ph.D. students and several postdocs and exchange students with other countries from the Americas, Africa and Asia.
Like most websites we use cookies. This is to ensure that we give you the best experience possible. Continuing to use
CABI.org
means you agree to our use of cookies. If you would like to, you can learn more about the cookies we use
here
.
Privacy Overview
This website uses cookies to improve your experience while you navigate through the website. Out of these, the cookies that are categorized as necessary are stored on your browser as they are essential for the working of basic functionalities of the website. We also use third-party cookies that help us analyze and understand how you use this website. These cookies will be stored in your browser only with your consent. You also have the option to opt-out of these cookies. But opting out of some of these cookies may affect your browsing experience.