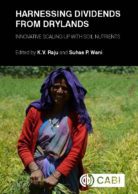 Harnessing Dividends from Drylands
Innovative Scaling up with Soil Nutrients
Edited by: K V Raju, International Crop Research Institute for Semi-Arid Tropics, India, Suhas P Wani, Formerly ICRISAT Development Center (IDC), India
September 2016 | Hardback | 9781780648156
$201.85 | £122.00 | €159.15
Description
The livelihoods of millions of people in developing countries, which depend on dryland agriculture to ensure their food security and their well-being, could be improved measurably by gains in agricultural crop yields. This book describes lessons learnt from an innovative scheme in India that improved crop yields in drylands. It shows how the scheme can be scaled up for other dryland regions of the world. The scheme uses localized soil nutrient analyses to create an integrated, climate smart fertilizer and planting plan that maximises yields for farmers. This book describes how a partnership between a global scientific organization (such as International Crops Research Institute for the Semi-Arid Tropics, ICRISAT) and state and non-state actors can provide a route to equitable growth, specifically for small and marginal farmers, and how this approach can be replicated worldwide to enhance rural livelihoods. This strategic collaboration and its conceptual and functional design is fully outlined, as well as the scheme's implementation and the effective monitoring and learning process that has been created.
Table of contents
1: Dry Lands for Food Security: A Macro Perspective
2: Evolution of Bhoochetana
3: Soil Nutrient Mapping for On-farm Fertility Management
4: Human Capacity Development to adopt Best Practices
5: Digital Technologies for Agricultural Extension
6: Institutional Arrangements and Innovations
7: Climate Variability and Agriculture
8: Crop Yield Estimation Strategy
9: An Integrated Approach for Productivity Enhancement
10: Water Productivity and Income
11: Social and Economic Benefits
12: Lessons Learnt and a Way Forward
Readership
· This is the first book of its kind to demonstrate how large yield gains can be achieved through the creation of innovative partnerships between international research organizations, state level government agencies and rural farmers in dryland regions. · Complete results from the scheme, available for the first time, plus descriptions of methodology and training that support the results. · Integrated climate smart fertilizer and cropping patterns created that match local soil conditions exactly.
Reviews
Have you read this book, or used it for one of your courses? We would love to hear your feedback. Email our reviews team to submit a review.
– Dr K.V. Raju Theme Leader, Policy and Impact, Research Program-Asia, International Crop Research Institute for Semi-Arid Tropics, Patancheru, Telengana, India. He was previously Principal Scientist and Assistant Director, ICRISAT. He has served as Economic Advisor to Chief Minister, Government of Karnataka, India and acts as Professor and Head, Centre for Ecological Economics and Natural Resources, Institute for Social and Economic Change, India. Has published 16 books and more than 100 papers in international and national journals, besides large number of research reports (from international and national organisations like ICRISAT, IFPRI, IWMI, ICRAF, IEG, ISEC, IRMA, IIM-A) and proceedings.
Research Program Director – Asia and Director, ICRISAT Development Center (IDC) at International Crops Research Institute for the Semi-Arid Tropics (ICRISAT), Patancheru, India. His area of specialization is scaling-up science-based interventions to benefit millions of farmers in Asia and Africa particularly in the area of sustainable agriculture for improving rural livelihoods. His expertise spans thru integrated watershed management and water use efficiency (Green, blue and grey) in field to catchment scale, wasteland development, wastewater management, biodiesel plantation, integrated nutrient management and carbon sequestration for the conservation of natural resources and their sustainable use for improving livelihoods of farmers. Livelihoods improvement for small farm holders is the main thrust of his research for development (R4D). Dr. Wani has organized number of national and international meetings and co-ordinating number of multi-disciplinary, multi country projects in the area of sustainable natural resource management and for improving livelihoods and building resilience of the farmers.
Like most websites we use cookies. This is to ensure that we give you the best experience possible. Continuing to use www.cabi.org means you agree to our use of cookies. If you would like to, you can learn more about the cookies we use here.