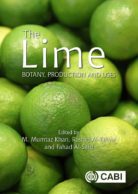 The Lime
Botany, Production and Uses
Edited by: M Mumtaz Khan, Sultan Qaboos University, Oman, Rashid Al-Yahyai, Sultan Qaboos University, Oman, Fahad Al-Said, The Research Council, Oman
May 2017 | Hardback | 236 Pages | 9781780647845
May 2017 | ePDF 9781780647852 | ePub 9781780647869
Series : Botany, Production and Uses
£100.45 | €132.15 | $169.15
Description
This book is a comprehensive and up-to-date resource covering the botany, production and uses of limes. The lime is an important fruit crop throughout citrus producing regions of the world, with its own specific benefits, culture and marketplace, but producers face issues affecting successful cultivation and production. The Lime: Botany, Production and Uses contains detailed information on:
· Breeding, genetics and biodiversity of limes
· Orchard establishment, management and precision agriculture
· Pests and diseases, including the latest knowledge regarding current threats such as Witches' Broom Disease and Citrus Greening
· Harvesting and postharvest management
· Traditional and commercial uses of limes

Authored by an international team of experts and presented in full colour throughout, this book is an essential resource for academic researchers and specialist extension workers, in addition to growers and producers involved in the citrus industry.
Table of contents
1: Introduction and Overview of Lime
2: Systematic Classification, Distribution and Botany
3: Advances in Lime Breeding and Genetics
4: Growth, Development and Reproductive Physiology of the Mexican Lime (Citrus aurantifolia Christm (Swingle))
5: Propagation and Nursery Certification
6: Planning and Orchard Establishment
7: Irrigation and Fertilization Management in Lime Trees
8: Cultural Practices
9: Precision Agriculture in Lime: Potential for Application of Precision Agriculture Technologies in Lime Cropping Systems
10: Plant Protection: Lime Diseases and Insect Pests
11: Innovative Production Technologies
12: Harvesting and Post-harvest Management
13: Traditional/Commercial Uses and Future Dynamics
Readership
Suitable for academic researchers and growers/producers in the citrus industry; libraries.
Reviews
Have you read this book, or used it for one of your courses? We would love to hear your feedback. Email our reviews team to submit a review.
Like most websites we use cookies. This is to ensure that we give you the best experience possible. Continuing to use
CABI.org
means you agree to our use of cookies. If you would like to, you can learn more about the cookies we use
here
.
Privacy Overview
This website uses cookies to improve your experience while you navigate through the website. Out of these, the cookies that are categorized as necessary are stored on your browser as they are essential for the working of basic functionalities of the website. We also use third-party cookies that help us analyze and understand how you use this website. These cookies will be stored in your browser only with your consent. You also have the option to opt-out of these cookies. But opting out of some of these cookies may affect your browsing experience.