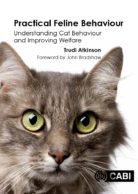 Practical Feline Behaviour
Understanding Cat Behaviour and Improving Welfare
By: Trudi Atkinson, Clinical Animal Behaviourist, UK
July 2018 | Paperback | 296 Pages | 9781780647838
July 2018 | ePDF 9781780647821 | ePub 9781780647814
Description
Practical Feline Behaviour contains all the relevant information that a veterinary nurse or technician needs to understand and handle the behaviour and welfare of house cats, and to offer safe and practical advice to clients.

There have been ground-breaking advances in our understanding of feline behaviour in recent years and, to protect the welfare of cats, it is increasingly important that anyone involved with their care, especially those in a professional capacity, keep up to date with these developments.

This approachable and down-to-earth text describes the internal and external influences on feline behaviour; on communication, learning, social behaviour, the relationship between behaviour and disease, and the cat - human relationship. It also provides practical advice on how the welfare of cats in our care may be protected and how behaviour problems should be addressed and how to avoid them.

In this book Trudi Atkinson draws on her extensive experience as a veterinary nurse and a Certified Clinical Animal Behaviourist to provide a rapid reference and an intensely practical feline behaviour resource for owners, breeders, veterinary professionals, shelter and cattery workers and anyone involved in the care of our feline companions.


- Practical, down to earth guide detailing all aspects of feline behaviour
- Rapid reference for instant access to information
- Written by a well-known animal behaviourist who has extensive experience in treating feline behaviour problems and in advising clients to protect the welfare of their cats
- Includes a foreword by John Bradshaw, School of Veterinary Science at University of Bristol, UK
Table of contents
-: About the Author
-: Preface
Part One: Understanding Feline Behaviour
1: The Origin and Evolution of the Domestic Cat
2: The Senses
3: Feline Communication
4: Social, Feeding and Predatory Behaviour
5: Kitten to Cat - Reproduction and the Behavioural Development of Kittens
6: Health and Behaviour
7: Learning, Training and Behaviour
Part Two: Practical Feline Behaviour
8: Advice for Breeders
9: Advice for Prospective Cat Owners
10: Advice for Cat Owners
11: Advice for Veterinary Professionals
12: Advice for Other Cat Carers
Appendix 1: Environmental Enrichment
Appendix 2: Play
Appendix 3: Reducing Resource Competition in a Multi-cat Household
Appendix 4: Neutering
Appendix 5: Introducing an Additional Cat to your Household
Appendix 6: Helping a Grieving Cat
Appendix 7: Introducing Cats and Dogs
Appendix 8: Cat Flaps
Appendix 9: Teaching Your Cat to Come to You When You Call
Appendix 10: Cats, Babies and Children
Appendix 11: House-training Your Cat or Kitten
Appendix 12: Training Your Cat to Like the Cat Carrier
Appendix 13: Medicating Your Cat
Appendix 14: Teaching Your Cat or Kitten to Accept Veterinary Examination
Appendix 15: First Aid Advice for Common Feline Behaviour Problems
Appendix 16: Friend or Foe
Appendix 17: Approaching, Stroking and Picking Up
Appendix 18: Recognizing Stress
Readership
A practical text for veterinary nurses and technicians, this book will also be of interest to veterinarians, pet owners and animal behaviour specialists.
Reviews
The book provides an excellent base for understanding cats and helping to read and handle them better. The information in this book improves both the cat's and the owner's welfare and makes work easier for veterinarians and veterinary nurses. With the help of this book you can recognise behavioural and environmental issues easier and provide needed early treatment. For those who are already familiar with cat behaviour and cats as patients, this book doesn´t necessarily give much new information, but for those not that familiar with cats, I warmly recommend it. Riikka Tolmunen, January 2019 - Riikka Tolmunen
Practical Feline Behaviour: Understanding Cat Behaviour and Improving Welfare is written by an experienced certified behaviour technician in the United Kingdom. The book is divided into two parts: origin and basic behavior of domestic cats and applied behavior. Veterinarians will be familiar with the content of the first part. The second part is subdivided into sections intended for cat breeders, prospective cat owners, cat owners, veterinary professionals, and those in "other careers." Journal of the American Veterinary Medical Association, December 2018 - Stefanie Schwartz
The book is actually useful for anyone with an interest in feline behaviour. The style of the book is certainly very readable, striking a good balance between providing sufficient factual and technical information with an appropriate level of clarification and explanation for the individual who may not have a strong scientific background. This book provides excellent advice in both prevention and treatment strategies and should become a standard text for anyone working with cats. Animal Welfare, April 2019 - John Rawlings
Trudi Atkinson qualified as a veterinary nurse in 1986 and attained her postgraduate diploma at the University of Southampton in 1999. In July of the same year she was accepted as a full member of the Association of Pet Behaviour Counsellors (APBC) and in 2000 left veterinary practice to start her own behaviour referral practice covering the South West of England. In 2004, she achieved accreditation as a Certified Clinical Animal Behaviourist (CCAB) under the scheme run by the Association for the Study of Animal Behaviour (ASAB). In early 2016, she started to specialise solely in feline behaviour and has presented talks on feline behaviour and companion animal behaviour in general for organisations including: APBC, British Veterinary Behaviour Association (BVBA), British Veterinary Nursing Association (BVNA), British Small Animal Veterinary Association (BSAVA) and the Centre for Animal Welfare (CAW). Trudi has served on the general committee for the Companion Animals Behaviour Therapy Study Group (now BVBA) and on the selection committee for APBC. Trudi contributes to, and is an examiner for, the International Society of Feline Medicine (IFSM) Advanced Certificate in Feline Behaviour. She is a Certified Cat Behaviour Consultant as recognised by the International Association of Animal Behavior Consultants (IAABC) and a full member of International Feline Behaviourists (IFB). Trudi has contributed to, and written books on the subject of cat behaviour, her latest book is Practical Feline Behaviour.
Like most websites we use cookies. This is to ensure that we give you the best experience possible. Continuing to use
CABI.org
means you agree to our use of cookies. If you would like to, you can learn more about the cookies we use
here
.
Privacy Overview
This website uses cookies to improve your experience while you navigate through the website. Out of these, the cookies that are categorized as necessary are stored on your browser as they are essential for the working of basic functionalities of the website. We also use third-party cookies that help us analyze and understand how you use this website. These cookies will be stored in your browser only with your consent. You also have the option to opt-out of these cookies. But opting out of some of these cookies may affect your browsing experience.