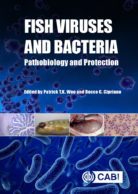 Fish Viruses and Bacteria
Pathobiology and Protection
Edited by: Patrick T K Woo, University of Guelph, Canada, Rocco C Cipriano, National Fish Health Research Laboratory, USA
April 2017 | Hardback | 376 Pages | 9781780647784
$180.00 | £108.00 | €144.00
Description
Taking a disease-based approach, Fish Viruses and Bacteria: Pathobiology and Protection focuses on the pathobiology of and protective strategies against the most common, major microbial pathogens of economically important marine and freshwater fish. The book covers well-studied, notifiable piscine viruses and bacteria, including new and emerging diseases which can become huge threats to local fish populations in new geographical regions if transported there via infected fish or eggs. A concise but thorough reference work, this book: - Covers key viral and bacterial diseases of notable fish species; - Reviews major well-established piscine pathogens as well as new, emerging and notifiable diseases; and - Contains the most up-to-date research contributed by a team of over fifty world experts. An invaluable bench book for fish health consultants, veterinarians and all those wanting instant access to information, this book is also a useful textbook for students specializing in fish health and research scientists initiating fish disease research programmes.
Table of contents
1: Infectious Pancreatic Necrosis Virus, Arun K. Dhar, Scott LaPatra, Andrew Orry and F.C. Thomas Allnutt
2: Infectious Haematopoietic Necrosis Virus, Jo-Ann C. Leong and Gael Kurath
3: Viral Haemorrhagic Septicaemia Virus, John S. Lumsden
4: Epizootic Haematopoietic Necrosis and European Catfish Virus, Paul Hick, Ellen Ariel and Richard Whittington
5: Oncogenic Viruses: Oncorhynchus masou Virus and Cyprinid Herpesvirus, Mamoru Yoshimizu, Hisae Kasai, Yoshihiro Sakoda, Nanako Sano and Motohiko Sano
6: Infectious Salmon Anaemia, Knut Falk and Maria Aamelfot
7: Spring Viraemia of Carp, Peter Dixon and David Stone
8: Channel Catfish Viral Disease, Larry A. Hanson and Lester H. Khoo
9: Largemouth Bass Viral Disease, Rodman G. Getchell and Geoffrey H. Groocock
10: Koi Herpesvirus Disease, Keith Way and Peter Dixon
11: Viral Encephalopathy and Retinopathy, Anna Toffan
12: Iridoviral Diseases: Red Sea Bream Iridovirus and White Sturgeon Iridovirus, Yasuhiko Kawato, Kuttichantran Subramaniam, Kazuhiro Nakajima,Thomas Waltzek and Richard Whittington
13: Alphaviruses in Salmonids, Marius Karlsen and Renate Johansen
14: Aeromonas salmonicida and A. hydrophila, Bjarnheidur K. Gudmundsdottir and Bryndis Bjornsdottir
15: Edwardsiella spp., Matt J. Griffin, Terrence E. Greenway and David J. Wise
16: Flavobacterium spp.: F. psychrophilum, F. columnare and F. branchiophilum, Thomas P. Loch and Mohamed Faisal
17: Francisella noatunensis, Esteban M. Soto and John P. Hawke
18: Mycobacterium spp., David T. Gauthier and Martha W. Rhodes
19: Photobacterium damselae, John P. Hawke
20: Piscirickettsia salmonis, Jerri Bartholomew, Kristen D. Arkush and Esteban M. Soto
21: Renibacterium salmoninarum, Diane G. Elliott
22: Streptococcus iniae and S. agalactiae, Craig A. Shoemaker, De-Hai Xu and Esteban M. Soto
23: Vibriosis: Vibrio anguillarum, V. ordalii and Aliivibrio salmonicida, Alicia E. Toranzo, Beatriz Magariños and Ruben Avendaño-Herrera
24: Weissella ceti, Timothy J. Welch, David P. Marancik and Christopher M. Good
25: Yersinia ruckeri, Michael Ormsby and Robert Davies
Reviews
Have you read this book, or used it for one of your courses? We would love to hear your feedback. Email our reviews team to submit a review.
Patrick has been a faculty member at the University of Guelph since 1974 (Assistant Professor, 1974; Associate Professor, 1978; Professor, 1984). He was also Professor (1993) of Collaborative International Development, and was Director (2002), Axelrod Institute of Ichthyology. The University Senate elected him University Professor Emeritus, and it was conferred at convocation (2006) by The Honorable LM Alexander, Chancellor. Major Academic Appointments @ University of Guelph (1974 – present): Faculty member since 1974 (Assistant Professor, 1974; Associate Professor, 1978; Professor, 1984). Professor (1993), Collaborative International Development; and Director (2002), Axelrod Institute of Ichthyology. Senate elected him University Professor Emeritus and it was conferred at convocation (2006) by The Honorable LM Alexander, Chancellor. Selected Research Awards before 1974: *MRC Post-Doctoral Fellow and Ballard Fellow @ Ontario Veterinary College, Canada *FAO Andre Mayer Research Fellow: @ East African Trypanosomiasis Research Organization, Uganda; and @ Serengeti Research Institute, Tanzania *IDRC Consultant and Visiting Scientist @ Nigerian Institute for Trypanosomiasis Research, Nigeria Selected External Appointments and Initiatives (1974 – 2017): *NUS Research Professor, National University of Singapore, Singapore *CNPq Scholar, Universidade Federal do Rio de Janerio, Brazil *MEC Research Fellow, Instituto de Acuicultura de Torre de la Sal, Spain *Research Fellow, Universiti Malaysia Terengganu, Malaysia *Short-term (< 2 months): Visiting Professor @ 7 universities; Visiting Scientist @ 5 research institutes/universities *Assessor/Examiner: 3 Academic Programs; 15 Appointment/Promotion Exercises; 19 PhD theses *Consultancies (12 X) – industry, universities, government agencies *Research Publications: 198 papers; 33 invited reviews; 53 abstracts *Editor: 12 books; 3 journals; 1 'special journal issue' *Founding Treasurer and Trustee, Zoological Education Trust *Founder, The Roy Anderson Memorial Lecture in Parasitology *Elected: Fellow, 'Royal Society of Tropical Medicine and Hygiene', UK; Professional Member, The New York Academy of Sciences, USA *Invited Presentations: 18 Plenary/Keynote and 32 Symposium Lectures @ Conferences *Recipient, The Robert Wardle Award "… for contributions to Parasitology"
Like most websites we use cookies. This is to ensure that we give you the best experience possible. Continuing to use www.cabi.org means you agree to our use of cookies. If you would like to, you can learn more about the cookies we use here.