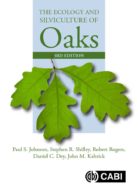 The Ecology and Silviculture of Oaks
3rd Edition
By: Paul Johnson, Formerly US Forest Service, USA, Stephen Shifley, Formerly US Forest Service, USA, Robert Rogers, Formerly University of Wisconsin-Stevens Point, USA, Daniel C. Dey, US Forest Service, USA, John M Kabrick, US Forest Service, USA
April 2019 | Hardback | 628 Pages | 9781780647081
April 2019 | ePDF 9781780647739 | ePub 9781780647746
£153.75 | €184.50 | $215.25
Description
The third edition of The Ecology and Silviculture of Oaks is an updated and expanded edition that explores oak forests as responsive ecosystems.

New chapters emphasize the importance of fire in sustaining and managing oak forests, the effects of a changing climate, and advanced artificial regeneration techniques. This new edition expands on silvicultural methods for restoring and sustaining oak woodlands and savannahs, and on management of ecosystem services, including wildlife habitat. It also incorporates new material on evaluating landscape-scale, and cumulative effects of management action compared with inaction. Nine of the fifteen chapters cover updated information on the geographic distribution of US oaks, oak regeneration dynamics, site productivity, stocking and stand development, even- and uneven-aged silvicultural methods, and growth and yield. This edition includes a new section with colour illustrations for improved visualization of complex relationships.

This book is intended for forest and wildlife managers, ecologists, silviculturists, environmentalists, and students of those fields.
Table of contents
1: Oak-dominated Ecosystems
2: Regeneration Ecology I Flowering, Fruiting and Reproduction Characteristics
3: Regeneration Ecology II Population Dynamics
4: Site Quality and Productivity
5: Development of Natural Stands
6: Self-thinning and Stand Density
7: Fire and Oak Forests
8: Even-aged Silvicultural Methods
9: Uneven-aged Silvicultural Methods
10: Artificial Regeneration
11: Managing Forest Health
12: Silvicultural Methods for Oak Savannahs and Woodlands
13: Silvicultural Methods for Selected Ecosystem Services
14: Managing Oak Forests in a Changing Climate
15: Growth and Yield
Appendix 1: Common and Scientific Names of Species Mentioned
Appendix 2: Forest Cover Types of Eastern USA Dominated by Oaks or Oaks Mixed with Other Species
Appendix 3: Forest Cover Types of Western USA Dominated by Oaks or Oaks Mixed with Other Species
Appendix 4: Formulae for Converting Site Index of One Species to Another in Unglaciated Regions of Indiana, Kentucky, Ohio and West Virginia
Appendix 5: Formulae for Converting Site Indexes for Oaks and Associated Species from One Species to Another in Three Regions
Appendix 6: Formulae for Converting Yellow-poplar Site Index to Oak Site Indexes in the Virginia-Carolina Piedmont
Appendix 7: Parameter Estimates for Site Index Asymptotes (S) and Species Coefficients (b) for Deriving Height/dbh Site Index Curves from Equation 4.1
Appendix 8: Common Conversions
Reviews
Have you read this book, or used it for one of your courses? We would love to hear your feedback. Email our reviews team to submit a review.
Like most websites we use cookies. This is to ensure that we give you the best experience possible. Continuing to use
CABI.org
means you agree to our use of cookies. If you would like to, you can learn more about the cookies we use
here
.
Privacy Overview
This website uses cookies to improve your experience while you navigate through the website. Out of these, the cookies that are categorized as necessary are stored on your browser as they are essential for the working of basic functionalities of the website. We also use third-party cookies that help us analyze and understand how you use this website. These cookies will be stored in your browser only with your consent. You also have the option to opt-out of these cookies. But opting out of some of these cookies may affect your browsing experience.