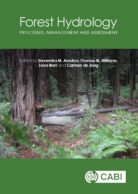 Forest Hydrology
Processes, Management and Assessment
Edited by: Devendra Amatya, Thomas Williams, Leon Bren, Carmen de Jong, University of Strasbourg, France
September 2016 | Hardback | 9781780646602
September 2016 | ePDF 9781780646619 | ePub 9781780646626
£100.99 | €132.80 | $169.95
Description
Forests cover approximately 26% of the world's land surface area and represent a distinct biotic community. They interact with water and soil in a variety of ways, providing canopy surfaces which trap precipitation and allow evaporation back into the atmosphere, thus regulating how much water reaches the forest floor as through fall, as well as pull water from the soil for transpiration.

The discipline "forest hydrology" has been developed throughout the 20th century. During that time human intervention in natural landscapes has increased, and land use and management practices have intensified. This book:

- Presents cutting edge thinking and assessments in forest hydrology across all latitudes and terrains, including state-of-the-art modelling techniques and methodologies
- Describes the latest challenges facing forest hydrology, such as increased occurrence of disturbance, due to extreme floods, drought, disease, and fire, potentially caused by climate change
- Is written by an internationally renowned team of scientists, engineers, and managers to give a well-rounded review of the subject

The book will be useful for graduate students, professionals, land managers, practitioners, and researchers with a good understanding of the basic principles of hydrology and hydrologic processes.
Table of contents
1: An Introduction to Forest Hydrology
2: Forest Runoff Processes
3: Forest Evapotranspiration: Measurement and Modelling at Multiple Scales
4: Forest Hydrology of Mountainous and Snow Dominated Watersheds
5: European Perspectives on Forest Hydrology
6: Tropical Forest Hydrology
7: Hydrology of Flooded and Wetland Forests
8: Forest Drainage
9: Hydrological Modeling in Forested Systems
10: Geospatial Technology Applications in Forest Hydrology
11: Forests Cover Changes and Hydrology in Large Watersheds
12: Hydrologic Effects of Forest Management
13: Hydrology of Forests after Wildfire
14: Hydrologic Processes of Reference Watersheds in Experimental Forests, USA
15: Applications of Forest Hydrologic Science to Watershed Management in the 21st Century
16: Hydrology of Taiga Forests in High Northern Latitudes
17: Future Directions in Forest Hydrology
Readership
Suitable for students, professionals, land managers, practitioners, and researchers of forests and hydrology.
Reviews
Have you read this book, or used it for one of your courses? We would love to hear your feedback. Email our reviews team to submit a review.
Like most websites we use cookies. This is to ensure that we give you the best experience possible. Continuing to use
CABI.org
means you agree to our use of cookies. If you would like to, you can learn more about the cookies we use
here
.
Privacy Overview
This website uses cookies to improve your experience while you navigate through the website. Out of these, the cookies that are categorized as necessary are stored on your browser as they are essential for the working of basic functionalities of the website. We also use third-party cookies that help us analyze and understand how you use this website. These cookies will be stored in your browser only with your consent. You also have the option to opt-out of these cookies. But opting out of some of these cookies may affect your browsing experience.