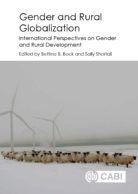 Gender and Rural Globalization
International Perspectives on Gender and Rural Development
Edited by: Bettina Bock, Wageningen University, The Netherlands, Sally Shortall, Newcastle University, UK
August 2017 | Hardback | 360 Pages | 9781780646251
August 2017 | ePDF 9781780646268 | ePub 9781780648422
£100.45 | €132.15 | $169.15
Description
This book explores how rural gender relations are changing in a globalized world. It analyses their development in specific places and the effects of the increasing connectedness and mobility of people. It integrates global experiences by discussing mobility, agriculture, gender identities and international development. Each theme is introduced with an overview of the state of the art in that specific area and integrates the case studies that follow. The contributors present empirical work from the global north and south and, more particularly, Sweden, Norway, Northern Ireland, Republic of Ireland, UK, Poland, Greece, Italy, Slovenia, Uzbekistan, India, Africa, Asia, Latin America, Australia, New Zealand, Canada and the USA. The first section explores gender differences in mobility patterns and analyses how mobility affects rural gender identities and relations. The second section focuses on the development of agricultural and rural policies, the response of individuals within farm households, and the implications for gender relations in rural areas. The third section focuses on the construction of identities and the changes occurring in the definition of rural femininity and masculinity as a result of rural transformations. The fourth section examines the role of international development policies in advancing women's well-being in the less developed parts of the world, and some of the unintended consequences of such interventions. The book closes with conclusions and reflections on the position of gender in rural research agendas and in rural academia more generally.

Key features:
· Empircal work from a wide range of geographical areas
· Examines how gender identities are constructed in rural agriculture
· Considers how effective development policies are in improving women's well-being

This book will be of interest to researchers in rural development and gender issues in the global North and South, and to students of rural sociology, social geography, development studies and gender studies.
Table of contents
1: Gender and Rural Globalization: An Introduction to International Perspectives on Gender and Rural Development
2: Gender and Mobility
3: Women's Migration for Work: The Case of Ukrainian Caregivers in Rural Italy
4: Gender, Migration and Rural Livelihoods in Uzbekistan in Times of Change
5: 'There is Dignity only with Livestock': Land Grabbing and the Changing Social Practices of Pastoralist Women in Gujarat, India
6: Gender and Rural Migration in Mexico and the Caribbean
7: Gender and Agriculture
8: The Genderness of Climate Change, Australia
9: Where Family, Farm and Society Intersect: Values of Women Farmers in Sweden
10: Women Farmers and Agricultural Extension/Education in Slovenia and Greece
11: The Agency Paradox: The Impact of Gender(ed) Frameworks on Irish Farm Youth
12: Rurality and Gender Identity
13: Rural Women Leaders: Identity Formation in Rural Northern Ireland
14: Gender Identities and Divorce among Farmers in Norway
15: Merging Masculinities: Exploring Intersecting Masculine Identities on Family Farms
16: Creating 'Masculine' Spaces for 'Feminine' Emotions – Men and Social Inclusion
17: Gender Desegregation among Village Representatives in Poland: Towards Breaking the Male Domination in Local Politics?
18: Gender and International Development
19: Gender Transitions in Agriculture and Food Systems
20: 'Glocal' Networking for Gender Equality and Sustainable Livelihoods
21: Sugar and Gender Relations in Malawi
22: The Role of Gender Indicators in Rural Development Programmes
23: Beneficial for Women? Global Trends in Gender, Land and Titling
24: Conclusions – Future Directions
Reviews
Have you read this book, or used it for one of your courses? We would love to hear your feedback. Email our reviews team to submit a review.
Like most websites we use cookies. This is to ensure that we give you the best experience possible. Continuing to use
CABI.org
means you agree to our use of cookies. If you would like to, you can learn more about the cookies we use
here
.
Privacy Overview
This website uses cookies to improve your experience while you navigate through the website. Out of these, the cookies that are categorized as necessary are stored on your browser as they are essential for the working of basic functionalities of the website. We also use third-party cookies that help us analyze and understand how you use this website. These cookies will be stored in your browser only with your consent. You also have the option to opt-out of these cookies. But opting out of some of these cookies may affect your browsing experience.