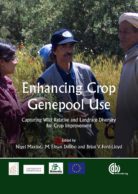 Enhancing Crop Genepool Use
Capturing Wild Relative and Landrace Diversity for Crop Improvement
Edited by: Nigel Maxted, University of Birmingham, UK, M Ehsan Dulloo, Bioversity International, Italy, Brian Ford-Lloyd, University of Birmingham, UK
May 2016 | Hardback | 9781780646138
May 2016 | ePDF 9781780646145 | ePub 9781780648361
£146.75 | €190.05 | $244.85
Description
Maintaining food security in the face of human population increase and climate change is one of the critical challenges facing us in the 21st Century. Utilisation of the full range of agrobiodiversity will be a necessary tool in addressing this challenge. In this book a team of international contributors review all aspects of utilization and conservation of crop wild relative (CWR) and landrace (LR) diversity as a basis for crop improvement and future food security.

Enhancing Crop Genepool Use covers four key areas:
· Characterization techniques - novel 'omics' techniques and predictive tools that can be used to identify adaptive traits and expedite plant breeding.
· Conservation strategies - how to develop national, regional and global CWR and LR conservation strategies, how better to target conservation to meet the needs of the plant breeding community, and how to integrate CWR and LR diversity into existing biodiversity conservation programmes.
· Facilitating CWR and LR use - pre-breeding using 'exotic' germplasm, meeting breeders' needs, integrating the conservation and user communities, and policy enhancement.
· Informatics development - improving characterization, trait and conservation data management and accessibility, and inter-information system operability.

This book will appeal to a wide array of specialists and postgraduate students, such as those working in the fields of agrobiodiversity conservation and use, conservation, ecology, botany, genetics, plant breeding and agriculture.
Table of contents
Part I: Breeder's use of exotic germplasm
1: Using phenomics and genomics to unlock landrace and wild relative diversity for crop improvement
2: Pre-domesticating wild relatives as new sources of novel genetic diversity
3: Unravelling quinoa domestication with wild ancestors
4: Screening wild Vigna species and cowpea (Vigna unguiculata) landraces for sources of resistance to Striga gesnerioides
5: Wild Lactuca saligna a rich source of variation for lettuce breeding
6: Capturing wild relative and landrace diversity for crop improvement using a new selection tool to exploit genetic resources in durum wheat
Part II: Improving access to PGRFA
7: How the Focused Identification of Germplasm Strategy (FIGS) is used to mine plant genetic resources collections for adaptive traits
8: Predictive characterization methods for accessing and using CWR diversity
9: Keeping a finger on the pulse: monitoring the use of CWR in crop improvement
Part III: CWR conservation
10: Joining up the dots: a systematic perspective of crop wild relative conservation and use
11: Europe's crop wild relative diversity: from conservation planning to conservation action
12: An approach for in situ gap analysis and conservation planning on a global scale
13: The distributions and ex situ conservation of crop wild relatives: a global approach
14: National strategies for the conservation of crop wild relatives
15: Crop wild relatives, a priority in Jordan? - developing a national strategy for the conservation of plant diversity in Jordan using a participatory approach
16: Establishing systematic crop wild relative conservation within the United Kingdom
17: Optimized site selection for the in situ conservation of forage CWRs: a combination of community and genetic level perspectives
18: Developing a crop wild relative conservation strategy for Finland
19: Developing national crop wild relative in situ conservation strategy for Lithuania: creation of national CWR inventory and its prioritization
20: Priorities for conservation of crop wild relatives at Indian National Genebank
21: Strategies for detecting climate adaptations in the wild pearl millet for future breeding use
22: Assessment of the conservation status of Mesoamerican crop species and their wild relatives in light of climate change
Part IV: LR conservation
23: Landrace conservation of maize in Mexico and evolutionary breeding
24: Use of spontaneous sexually-produced new landraces of a vegetatively propagated crop of the Andes (Oxalis tuberosa Mol.) to enhance in situ conservation
25: A long-term systematic monitoring framework for on-farm conserved potato landrace diversity
26: A European in situ (on-farm) conservation and management strategy for landraces
27: Using landraces in agriculture, food and cooking: experiences around a big city in Southern Europe
28: Hungarian strategies for the conservation of crop wild relative and landrace diversity
29: Assessment of Italian landrace density and species richness: useful criteria for developing in situ conservation strategies
30: Chickpea wild relatives and landraces of Georgia
31: Landrace inventories and recommendations for in situ conservation in Finland
Part V: Community-based conservation and use
32: Community biodiversity management (CBM): A participatory methodology that integrates empowerment, livelihoods and on-farm management of agrobiodiversity
33: Evolutionary Plant Breeding: A method for rapidly increasing on-farm biodiversity to support sustainable livelihoods in an era of climate change
34: Value chain development: a silver bullet for agrobiodiversity conservation and use?
Part VI: PGR conservation and use policy
35: Moving slowly towards the light: a review of efforts to create a global system for PGRFA over the last half century
36: On the conservation and sustainable use of plant genetic resources in Europe: a stakeholder analysis
37: Towards an improved European Plant Germplasm System
38: Impact of the genetic resources policy landscape on food security: an assessment of the Genetic Resources and Intellectual Property Rights Programme
39: What do we have to lose? Monitoring crop genetic diversity
Part VII: Conservation informatics
40: Improved utilization of crop diversity for rationalized breeding using data interoperability
41: Implementation of a PGR Global Documentation System in Portugal
42: The GRIN-Taxonomy Crop Wild Relative Inventory
Readership
Suitable for agrobiodiversity conservation and use professionals, postgraduate students, conservation professionals and public bodies, libraries
Reviews
Have you read this book, or used it for one of your courses? We would love to hear your feedback. Email our reviews team to submit a review.
Professor / consultant in Plant Genetic Conservation.
Research Interests: Plant conservation and broader biodiversity conservation and use, with specific expertise in: field conservation, taxonomy, ecogeography, GIS, population sampling, population management, reserve management, on-farm conservation, gene flow and genetic diversity studies of various plant groups. Work experience throughout Africa, the Middle East, Caucasus, Central Asia and Europe.
Dr Dulloo is a Team Leader for a Bioversity International Initiative on Effective Genetic Resources Conservation and Use. Dr Dulloo is also co-Leader of the Genetic Diversity Cluster in the CGIAR Research Program on Roots, Tubers and Bananas, as well as co-Chair of the Crop Wild Relative Specialist Group. He has been a Senior Policy Officer at the FAO. He was the lead author of the 2005 Millennium Ecosystem Assessment Report and, more recently, lead author of Chapter 2.2 Status and Trends – Nature in the IPBES Global Assessment on Biodiversity and Ecosystem Services Report. He won the World Bank 2009 Development Marketplace Award on Climate Adaptation. Dr Dulloo has published widely on biodiversity and the conservation of genetic resources.
Like most websites we use cookies. This is to ensure that we give you the best experience possible. Continuing to use
CABI.org
means you agree to our use of cookies. If you would like to, you can learn more about the cookies we use
here
.
Privacy Overview
This website uses cookies to improve your experience while you navigate through the website. Out of these, the cookies that are categorized as necessary are stored on your browser as they are essential for the working of basic functionalities of the website. We also use third-party cookies that help us analyze and understand how you use this website. These cookies will be stored in your browser only with your consent. You also have the option to opt-out of these cookies. But opting out of some of these cookies may affect your browsing experience.