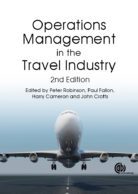 Operations Management in the Travel Industry
2nd Edition
Edited by: Peter Robinson, Leeds Beckett University, UK, Paul Fallon, University of Central Lancashire, UK, Harry Cameron, University of Wolverhampton, UK, John C Crotts, College of Charleston, USA
February 2016 | Paperback | 9781780646114
February 2016 | Hardback | 9781780646107
February 2016 | ePDF 9781780646121 | ePub 9781789244779
Description
Covering the applied managerial perspective of the travel industry, this book looks at the core disciplines and the application of theory to practice. Considering individual and corporate social responsibility, it teaches effective managerial skills by reviewing legal frameworks, quality management and marketing, financial management, and the management of shareholders and stakeholders. It discusses current trends such as sustainability and governmental emission targets against a background of the needs of a commercial business to innovate and increase profits. A valuable tool for both students and those working in the travel industry, this new edition includes new content, a revised structure and all-new international case studies.
Table of contents
-: Introduction - Travel and Operations Management
1: Transport and Logistics Management
2: Business Planning & Strategy
3: Business Development
4: Marketing
5: Human Resources
6: Servicescapes
7: Financial Management
8: Sustainability
9: Travel, Society & Culture
10: Crisis Management and The Future of the Travel Industry
11: Career Development Skills and Strategies in the Travel Industry
Reviews
Have you read this book, or used it for one of your courses? We would love to hear your feedback. Email our reviews team to submit a review.
Peter Robinson is Head of the Centre for Tourism and Hospitality Management at Leeds Beckett University. Prior to entering academia Peter gained experience in the public, private and voluntary sectors within tourism, hospitality and events management, including senior management roles with The National Trust and Derby University as Tourism Projects Manager overseeing a range of EU funded business support projects.
Peter has worked as a business development consultant (mainly within the leisure sector) with a number of high profile clients across the UK. Peter has gained experience developing businesses in the tourism, events, automotive, retail and IT sectors. He is currently a Trustee of the Carpet Museum in Kidderminster and Elvaston Castle and Gardens Trust.
He is a Member of The Tourism Society and The Tourism Management Institute, and a fellow of the Higher Education Academy The Institute for Travel and Tourism Management (and a member of the ITT Education an Training Committee). Peter is a Principal Fellow of the Higher Education Academy
Like most websites we use cookies. This is to ensure that we give you the best experience possible. Continuing to use
CABI.org
means you agree to our use of cookies. If you would like to, you can learn more about the cookies we use
here
.
Privacy Overview
This website uses cookies to improve your experience while you navigate through the website. Out of these, the cookies that are categorized as necessary are stored on your browser as they are essential for the working of basic functionalities of the website. We also use third-party cookies that help us analyze and understand how you use this website. These cookies will be stored in your browser only with your consent. You also have the option to opt-out of these cookies. But opting out of some of these cookies may affect your browsing experience.