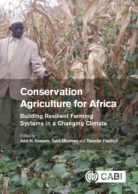 Conservation Agriculture for Africa
Building Resilient Farming Systems in a Changing Climate
Edited by: Amir Kassam, University of Reading, UK, Saidi Mkomwa, African Conservation Tillage (ACT), Nairobi, Theodor Friedrich, Food and Agriculture Organization of the United Nations, Cuba
December 2016 | Hardback | 318 Pages | 9781780645681
December 2016 | ePDF 9781780645698 | ePub 9781780648415
£103.50 | €136.10 | $174.20
Description
Tillage agriculture has led to widespread soil and ecosystem degradation globally. This is especially so in Africa where traditional and modern tillage-based agricultural practices have become unsustainable due to severe disturbance and exploitation of natural resources, with negative impacts on the environment and rural livelihoods. In addition, agriculture in Africa today faces major challenges including increased costs of production and energy, the effects of climate change, and the lack of an effective paradigm for sustainable intensification, especially for small- and medium-size holdings. Africa is facing a serious challenge to food security and as a continent has not advanced towards eradicating hunger. In addition, the population is still growing much faster than on most other continents. This pressure has led to the emergence of no-till conservation agriculture as a serious alternative sustainable agriculture paradigm. In Africa, in recent years, conservation agriculture techniques and methods have spread to many countries, as greater development, education and research effort are directed towards its extension and uptake.

This book is aimed at agricultural researchers and scientists, educationalists, and agricultural service providers, institutional leaders and policy makers working in the fields of sustainable agriculture and international development, and also at agroecologists, conservation scientists, and those working on ecosystem services.

This book:

· Focuses on research and development initiatives in Africa aimed at building resilient farming systems based on conservation agriculture principles and practices.

· Summarises the status of conservation agriculture in Africa today and prospects for its future development in Africa as a basis for sustainable agriculture intensification.

· Describes case studies showing the performance of conservation agriculture in Africa.
Table of contents
1: Conservation Agriculture in Africa: An Overview
2: Weather-Proofing Agriculture with Conservation Agriculture
3: Conservation Agriculture: Growing more with less – the future of sustainable intensification
4: Empowering Smallholder Farmers with Profitable and Sustainable Farming using Conservation Agriculture – the Case of East Africa
5: Implementing the Principles of Conservation Agriculture in Malawi: Crop Yields and Factors Affecting Adoption
6: Innovation Systems and farmer perceptions regarding Conservation Agriculture in Cabo Delgado, Mozambique
7: Conservation Agriculture in North Africa: Experiences, Achievements and Challenges
8: How Can We Cover Millions of Hectares with Conservation Agriculture in Africa?
9: Climate-Smart push-pull - A conservation agriculture technology for food security and environmental sustainability in Africa
10: How to Make Conservation Agriculture Ever Green
11: Mechanization of smallholder Conservation Agriculture in Africa: contributing resilience to precarious systems
12: Conservation Agriculture in South Africa: Lessons from Case Studies
13: Extending Conservation Agriculture benefits through Innovation Platforms
14: Summing Up
Reviews
This book makes a timely contribution to agricultural development efforts in Africa, discussing and demonstrating the role of Conservation Agriculture in building resilient and sustainable farming systems in a changing climate. - Robert Brinkman
The book is a recent bright beacon in literature about improved farming and agricultural land management in Africa, highlighting the technical successes and acceptability to farmers, both small-scale and large-scale, of 'carbon-friendly' CA. - Francis Shaxon
This book is encyclopaedic in its coverage of the progress of, and constraints on, the spread of CA in Africa. It brings out not only the diversity of agroecological environments in Africa at national down the village levels; it also brings out the equally important, but not always considered, diversity of socio-economic environments that need to be recognised and catered for, again down to within-village level. - Hugh Brammer
Amir Kassam is: (i) Moderator of the FAO-hosted Global Platform for Conservation Agriculture Community of Practice (CA-CoP), (ii) Chairman of the International Conservation Agriculture Advisory Panel for Africa (ICAAP-Africa); (iii) Vice-Chairman of the Conservation Agriculture Association of the United Kingdom (CA-UK); (iv) a Member of the European Conservation Agriculture Federation (ECAF); (v) Visiting Professor in the School of Agriculture, Policy and Development, University of Reading, UK, where he teaches Conservation Agriculture; (vi) Convener of the Land Husbandry Group of the Tropical Agriculture Association (TAA), UK, Member of the Strategic Steering Group of the International Cryosphere Climate Initiative (ICCI), UNEP, and Board member of the Asian Center of Innovation for Sustainable Agriculture Intensification (ACISAI) at the Asian Institute of Technology (AIT), Bangkok.
Kassam is a Fellow of the Royal Society of Biology (UK), and a member of several international advisory committees, Boards and Panels. He is cited in several 'Who is Who' in the UK and the USA. He has published widely. In 2005, Kassam was awarded an OBE in the Queen's Honours List for services to tropical agriculture and to rural development.
Saidi Mkomwa is: (i) Executive Secretary and Chief Executive Officer of the African Conservation Tillage Network (ACT) since 2008, (ii) Member of the International Steering Committee hosting the 4th, 5th, 6th, 7th and 8th World Conservation Agriculture Congresses, (iii) Member of the Programme Advisory Committee (PAC) of ICRAF's Drylands Development Programme (DRYDEV), since 2016, (iv) Registered professional member of the Engineers' Registration Board of Tanzania, since 2002, and (v) Technical Secretary of the International Conservation Agriculture Advisory Panel for Africa (ICAAP-Africa)
Like most websites we use cookies. This is to ensure that we give you the best experience possible. Continuing to use
CABI.org
means you agree to our use of cookies. If you would like to, you can learn more about the cookies we use
here
.
Privacy Overview
This website uses cookies to improve your experience while you navigate through the website. Out of these, the cookies that are categorized as necessary are stored on your browser as they are essential for the working of basic functionalities of the website. We also use third-party cookies that help us analyze and understand how you use this website. These cookies will be stored in your browser only with your consent. You also have the option to opt-out of these cookies. But opting out of some of these cookies may affect your browsing experience.