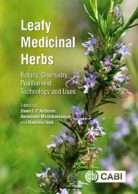 Leafy Medicinal Herbs
Botany, Chemistry, Postharvest Technology and Uses
Edited by: Dawn C P Ambrose, Central Institute of Agricultural Engineering (ICAR), India, Annamalai Manickavasagan, Sultan Qaboos University, Oman, Ravindra Naik, Central Institute of Agricultural Engineering, India
July 2016 | Hardback | 9781780645599
July 2016 | ePDF 9781780645605 | ePub 9781780647555
£103.50 | €136.10 | $174.20
Description
Medicinal herbs are rich in vitamins, minerals and antioxidants, and are able to synthesize secondary metabolites with disease preventive properties. It is due to these qualities that herbs have been used throughout history for flavouring and in food, medicine and perfumery preparations. They are also often considered to be safe alternatives to modern medicines because of their healing properties. Though interest in medicinal and aromatic crops is growing worldwide, there is still little focus on the area of leafy medicinal herbs.

This book compiles the literature for 23 globally relevant leafy medicinal herbs. Beginning with a general overview and discussion of the importance of these plants, it then handles each herb by chapter. Chapters discuss the botany of the crop, including its history and origin, geographical distribution and morphology, before focusing on the chemical composition and phytochemical attributes. They then review postharvest technology aspects such as processing and value addition, before concluding with the general and pharmacological uses for each crop. A complete compilation of the subject, this book forms a vital resource for researchers, students, farmers and industrialists in the area of leafy medicinal herbs.
Table of contents
:: Introduction
:: Preface
1: Aloe Vera
2: Ashwagandha
3: Basil
4: Bay Leaf
5: Betel Vine
6: Celery
7: Centella
8: Chester
9: Coriander
10: Curry Leaf Plant
11: Fenugreek
12: Lemongrass
13: Mint
14: Moringa
15: Oregano
16: Parsley
17: Patchouli
18: Rosemary
19: Sage
20: Senna
21: Spinach
22: Stevia
23: Thyme
Reviews
'this work makes the cut..the distinguishing factor is that for each herb, a solid body of research documents the traditional and contemporary medicinal profile and properties useful for the pharmaceutical, food and body care industries'. - J. Saxton, Bastyr University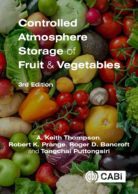 Controlled Atmosphere Storage of Fruit and Vegetables
By: Anthony Keith Thompson, Robert K. Prange, Roger D Bancroft, Tongchai Puttongsiri
From
£71.75 | €82.00 | $92.25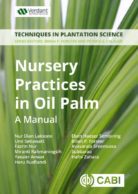 Nursery Practices in Oil Palm
By: Nur D Laksono, Umi Setiawati, Fazrin Nur, Miranti Rahmaningsih, Yassier Anwar, Heru Rusfiandi, Eben Haeser Sembiring, Brian Forster, Avasarala Sreenivasa Subbarao, Hafni Zahara
From
£25.65 | €30.75 | $35.90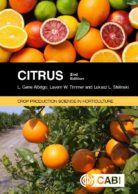 Citrus
By: L. Gene Albrigo, Lukasz L Stelinski, Lavern Timmer
From
£51.25 | €61.50 | $71.75
Like most websites we use cookies. This is to ensure that we give you the best experience possible. Continuing to use
CABI.org
means you agree to our use of cookies. If you would like to, you can learn more about the cookies we use
here
.
Privacy Overview
This website uses cookies to improve your experience while you navigate through the website. Out of these, the cookies that are categorized as necessary are stored on your browser as they are essential for the working of basic functionalities of the website. We also use third-party cookies that help us analyze and understand how you use this website. These cookies will be stored in your browser only with your consent. You also have the option to opt-out of these cookies. But opting out of some of these cookies may affect your browsing experience.