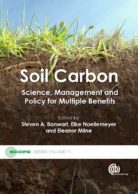 Soil Carbon
Science, Management and Policy for Multiple Benefits
Edited by: Steven A Banwart, University of Leeds, UK, Elke Noellemeyer, The National University of La Pampa, Argentina, Eleanor Milne, University of Leicester, UK and Colorado State University, USA
December 2014 | Hardback | 420 Pages | 9781780645322
November 2019 | Paperback | 420 Pages | 9781786395504
December 2014 | ePDF 9781780645339 | ePub 9781789244526
£104.55 | €137.30 | $197.30
Description
This book brings together the essential evidence and policy opportunities regarding the global importance of soil carbon for sustaining Earth's life support system for humanity. Covering the science and policy background for this important natural resource, it describes land management options that improve soil carbon status and therefore increase the benefits that humans derive from the environment. Written by renowned global experts, it is the principal output from a SCOPE rapid assessment process project.
Table of contents
I: Foreword
II: Acknowledgements
III: Executive Summary
Part I: Introduction, Overview and Integration
1: The global challenge for soil carbon
2: Soil carbon, a critical natural resource: Wide-scale goals, urgent actions
3: Soil carbon transition curves: reversal of land degradation through management of soil organic matter for multiple benefits
4: From potential to implementation: An innovation framework to realise the benefits of soil carbon
5: A strategy for taking soil carbon into the policy arena
Part II: Soil Carbon in Earth's Life Support System
6: Soil formation
7: Soil carbon dynamics and nutrient cycling
8: Soil hydrology and reactive transport of carbon and nitrogen in a multi-scale landscape
Part III: The Multiple Benefits of Soil Carbon
9: Climate change mitigation
10: Soil carbon and agricultural productivity: Perspectives from sub-Saharan Africa
11: Soil as a support of biodiversity and functions
12: Water supply and quality
13: Wind erosion of agricultural soils and the carbon cycle
14: Historical and sociocultural aspects of soil organic matter and soil organic carbon benefits
15: The economic value of soil carbon
Part IV: Quantification and Reporting of Soil Carbon
16: Measuring and monitoring soil carbon
17: Modelling soil carbon
18: Valuation approaches for soil carbon
Part V: Influence of Human Activity on Soil Carbon
19: Current soil carbon loss and land degradation globally: Where are the hotspots and why there?
20: Climate change and soil carbon impacts
21: Impacts of land-use change on carbon stocks and dynamics in central-southern South American biomes: Cerrado, Atlantic forest and southern grasslands.
Part VI: Managing Soil Carbon for Multiple Benefits
22: Basic principles of soil carbon management for multiple ecosystem benefits
23: Managing soil carbon for multiple ecosystems benefits: positive exemplars – Latin America
24: Managing soil carbon for multiple benefits: positive exemplars - North America
25: Managing soil carbon in Europe: paludicultures as a new perspective for peatlands
26: Managing soil organic carbon for multiple benefits: The case of Africa
27: Benefits of SOM in agro-ecosystems: A case of China
28: Assessment of organic carbon status in Indian soils
Part VII: Governance of Soil Carbon
29: Policy frameworks
30: National implementation case study: China
31: Avoided land degradation and enhanced soil C storage: Is there a role for carbon markets?
Reviews
This book was published by CABI on World Soil Day, 5 December 2014, ahead of the International Year of Soils.CABI is an international not-for-profit organisation that provides information and scientific expertise to solve problems in farming and the environment. This book tackles the key issue of soil carbon. It's an academic text of 31 chapters bringing together scientific evidence and policy opportunities regarding soil carbon and its role in sustaining Earth's life-support system. Starting with a look at the global challenges for soil carbon, the authors examine soil science and how the management of soil organic matter has the potential to reverse land degradation. There are several urgent short-term actions that need to be taken to achieve the long-term goals of climate change mitigation, improving farmland productivity and biodiversity, and improved local and global environments. The vital aspect of managing soil carbon is considered in detail and there is a fascinating section looking at positive examples from around the world, including the peatlands of Europe, the savannah of Kenya, and studies of paddy field soils in India. The final section considers soil carbon governance. It's a valuable reference book with all the latest evidence relating to soil carbon in one place and detailed references. An essential read for those involved in research and policy work relating to soil and the environment. - John Evans
Like most websites we use cookies. This is to ensure that we give you the best experience possible. Continuing to use
CABI.org
means you agree to our use of cookies. If you would like to, you can learn more about the cookies we use
here
.
Privacy Overview
This website uses cookies to improve your experience while you navigate through the website. Out of these, the cookies that are categorized as necessary are stored on your browser as they are essential for the working of basic functionalities of the website. We also use third-party cookies that help us analyze and understand how you use this website. These cookies will be stored in your browser only with your consent. You also have the option to opt-out of these cookies. But opting out of some of these cookies may affect your browsing experience.