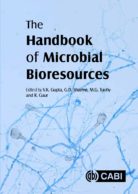 The Handbook of Microbial Bioresources
Edited by: Vijai Kumar Gupta, Tallinn University of Technology, Estonia, Gauri Dutt Sharma, Bilaspur University, India, Maria G Tuohy, National University of Ireland Galway, Ireland, Rajeeva Gaur, Dr. RML Avadh University, India
June 2016 | Hardback | 9781780645216
June 2016 | ePDF 9781780645223 | ePub 9781789244564
£211.15 | €277.15 | $347.90
Description
Microbial technology plays an integral role in the biotechnology, bioengineering, biomedicine/biopharmaceuticals and agriculture sector. This book provides a detailed compendium of the methods, biotechnological routes, and processes used to investigate different aspects of microbial resources and applications. It covers the fundamental and applied aspects of microorganisms in the health, industry, agriculture and environmental sectors, reviewing subjects as varied and topical as pest control, health and industrial developments and animal feed.
Table of contents
-: Foreword
1: Microbial Resources for Improved Crop Productivity
2: The contributions of mycorrhizal fungi
3: Trichoderma: Utilization for Agriculture Management and Biotechnology
4: The Role of Bacillus Bacterium in Formation of Plant Defence: Mechanism and Reaction
5: Biofilm Formation on Plant Surface by Rhizobacteria: Impact on Plant Growth and Ecological Significance
6: Biofilmed Biofertilizers Application in Agroecosystems
7: Microbial nanoformulation: Exploring potential for coherent nano-farming
8: Bacillus thuringiensis: A Natural Tool in the Insect Pest Control
9: Pleurotus as an Exclusive Eco-Friendly Modular Bio-Tool
10: Use of Biotechnology in Promoting Novel Food and Agriculture Important Microorganisms
11: Endophytes: An Emerging Microbial Tool for Plant Diseases Management
12: Role of L: monocytogenes in Human Health: Disadvantages and Advantages
13: Natural Weapons against Cancer From Bacteria
14: Giardia and Giardiasis: An Overview On Recent Developments
15: Power of Bifidobacteria in Food Applications for the Health Promotion
16: Probiotic and Dental Carries: A Recent Outlook on Conventional Therapy
17: Human Microbiota for Human Health
18: Biotechnological Production of Polyunsaturated Fatty Acids
19: Functional Enzymes for Animal Feed Applications
20: Microbial Xylanases: Production, Applications and Challenges
21: Microbial Chitinase: Production and Potential Applications
22: Characteristics of microbial inulinases: physical and chemical bases of their activity
23: Microbial Resources for Biopolymer Production
24: Microbial Metabolites in Cosmetic Industries
25: Fungi of the Genus Pleurotus: Importance and Applications
26: Useful Microorganisms for Environmental Sustainability: Application of Heavy Metal Tolerant Consortia for Surface Water Decontamination in Natural and Artificial Wetlands
27: Exopolysaccharide (EPS) producing bacteria: an ideal source of biopolymers
28: Microbial Process Development for Fermentation Based Biosurfactant Production
29: Recent Developments on Algal Biofuel Technology
30: Microbial lipases: Emerging Biocatalyst
31: Bioremediation of Gaseous and Liquid Hydrogen Sulfide Pollutants by Microbial Oxidation
32: Archaea, A Useful Group for Energy Unconventional Production: Methane Production from Sugarcane Secondary Distillation Effluents Using Thermotolerant Strains
33: Industrial Additives Obtained Through Microbial Biotechnology: Biosurfactants and Prebiotics Carbohydrates
34: Industrial Additives Obtained Through Microbial Biotechnology: Bioflavors and Biocolorants
35: Actinomycetes in Biodiscovery: Genomic Advances and New Horizons
36: Molecular Strategies for the Studies of the Expression of Gene Variation by Real-time PCR
37: Whole Genome Sequence Typing Strategies for Enterohemorrhagic Escherichia coli of the O157:H7 Serotype
38: Microbial Keratinases: Characteristics, Biotechnological Applications and Potential
39: Philippine Fungal Diversity: Benefits and Threats to Food Security
Reviews
Have you read this book, or used it for one of your courses? We would love to hear your feedback. Email our reviews team to submit a review.
Like most websites we use cookies. This is to ensure that we give you the best experience possible. Continuing to use
CABI.org
means you agree to our use of cookies. If you would like to, you can learn more about the cookies we use
here
.
Privacy Overview
This website uses cookies to improve your experience while you navigate through the website. Out of these, the cookies that are categorized as necessary are stored on your browser as they are essential for the working of basic functionalities of the website. We also use third-party cookies that help us analyze and understand how you use this website. These cookies will be stored in your browser only with your consent. You also have the option to opt-out of these cookies. But opting out of some of these cookies may affect your browsing experience.