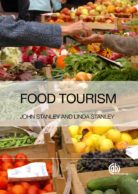 Food Tourism
A Practical Marketing Guide
By: John Stanley, John Stanley Associates, Australia, Linda Stanley, John Stanley Associates, Australia
December 2014 | Hardback | 260 Pages | 9781780645018
December 2014 | Paperback | 260 Pages | 9781780645025
December 2014 | ePDF 9781780645032 | ePub 9781789244007
£84.45 | €112.95 | $164.15
Description
The fastest growth in tourism is the culinary sector. Covering farmers markets, taste tours, agri-entertainment, glamping, restaurants, farm shops and more, food tourism has become both an important part of holidaying and a purpose in itself. With growth occurring in most developed countries and tourists searching out culinary tourism throughout the world, this book provides an overall direction to the development of food tourism and a section on the future of this trend.
Table of contents
-: Foreword
-: Preface
Part I: Food Tourism And The Tourist
1: Introduction
2: The Changing Tourist
Part II: Farm Produce And Agritourism
3: On-Farm Marketing and Activities
4: Off-Farm Marketing and Retailing
5: Agri-Entertainment or Agri-Tourism
6: Accommodation
Part III: Food Tourism – The Wider Picture
7: Independent Garden Centres and Nurseries
8: The Food Offer
Part IV: Marketing And The Future
9: Marketing
10: The Future of Food tourism
Appendix 1: Culinary, Retail and Tourism Terms
Appendix 2: 51 Ways to Promote Your Culinary Business to the Local Community
Reviews
"Stanley and Stanley (farmers, consultants, and independent scholars) present a how-to of food tourism-from pick-your-own farms to festivals and culinary tours-with examples from the authors' and others' work from around the English-speaking world. The book's first section, "Food Tourism and the Tourist," amounts to two chapters providing the theory, history, economic argument, and overview for what follows. Remaining chapters shift to specific guidance and justification for various types of food tourism, grouped into agro-tourism in part 2 and culinary tourism in part 3. The concluding section is devoted to food tourism marketing and a look to the future. The result is a highly practical book written in plain language that will be useful for both scholars and practitioners. Though not a textbook, Food Tourism would actually make a useful text for the classroom. Appendixes include suggested readings, a guide to acronyms, and promotional ideas. Endnotes in each chapter and the inclusion of academic contributors will appeal to scholars. The book is a more didactic version of Lucy Long's Culinary Tourism (CH, Jun'04, 41-5869) and Food Tourism around the World: Development, Management and Markets, by C. Michael Hall et al. (2003). Recommended. All readers." - CHOICE - J.M. Deutsch
Like most websites we use cookies. This is to ensure that we give you the best experience possible. Continuing to use
CABI.org
means you agree to our use of cookies. If you would like to, you can learn more about the cookies we use
here
.
Privacy Overview
This website uses cookies to improve your experience while you navigate through the website. Out of these, the cookies that are categorized as necessary are stored on your browser as they are essential for the working of basic functionalities of the website. We also use third-party cookies that help us analyze and understand how you use this website. These cookies will be stored in your browser only with your consent. You also have the option to opt-out of these cookies. But opting out of some of these cookies may affect your browsing experience.