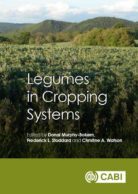 Legumes in Cropping Systems
Edited by: Donal Murphy-Bokern, Independent scientist, Germany, Fred Stoddard, University of Helsinki, Finland, Christine Watson, SRUC, UK
May 2017 | Hardback | 278 Pages | 9781780644981
May 2017 | ePDF 9781780646749 | ePub 9781780646756
£89.70 | €115.80 | $147.60
Description
Based on contributions from members of the Legumes Future research consortium and complemented by articles from other research teams, this book provides a comprehensive overview of knowledge relevant to developing legume-supported cropping systems in Europe. It reflects the growing interest in using legumes to improve cropping and the current debate over the imbalance in European systems where the low use of legumes has caused concern in the agricultural policy community. This book supports informed debate and decision-making that addresses the associated challenges.
Legumes in Cropping Systems presents current knowledge on this subject across 15 coordinated chapters. Each chapter addresses a specific aspect of legume cropping and provides insight into the relevant literature to help support understanding and explore the underlying processes that influence cropping system development. This book includes coverage of:
· the role of legumes in cropping systems;
· the role of legumes in European protein supplies;
· environmental effects of grain and forage legumes;
· current status of the major grain and forage legume crops;
· economic effects; and
· policy development.
Written by an international team of expert authors and presented in full-colour throughout, this book is an invaluable resource for researchers in agronomy and crop sciences, agricultural professionals, policy makers, and students.
Table of contents
1: Introduction – Perspectives on Legume Production and Use in European Agriculture
2: The Role of Legumes in Bringing Protein to the Table
3: Nitrogen and Phosphorus Losses from Legume-supported Cropping
4: Legume Crops and Biodiversity
5: Grain Legumes: an Overview
6: Lupins in European Cropping Systems
7: Developing Soy Production in Central and Northern Europe
8: Legume-based Green Manure Crops
9: White Clover Supported Pasture-based Systems in North-west Europe
10: Red Clover in Cropping Systems
11: Lucerne (Alfalfa) in European Cropping Systems
12: Mixtures of Legumes for Forage Production
13: Introducing Legumes into European Cropping Systems: Farm-level Economic Effects
14: Optimizing Legume Cropping: the Policy Questions
15: Developing Legume Cropping: Looking Forward
Reviews
Have you read this book, or used it for one of your courses? We would love to hear your feedback. Email our reviews team to submit a review.
Like most websites we use cookies. This is to ensure that we give you the best experience possible. Continuing to use
CABI.org
means you agree to our use of cookies. If you would like to, you can learn more about the cookies we use
here
.
Privacy Overview
This website uses cookies to improve your experience while you navigate through the website. Out of these, the cookies that are categorized as necessary are stored on your browser as they are essential for the working of basic functionalities of the website. We also use third-party cookies that help us analyze and understand how you use this website. These cookies will be stored in your browser only with your consent. You also have the option to opt-out of these cookies. But opting out of some of these cookies may affect your browsing experience.