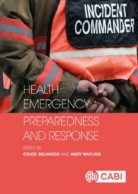 Health Emergency Preparedness and Response
Edited by: Chloe Sellwood, NHS England and University of Nottingham, UK, Andy Wapling, NHS England, UK
August 2016 | Paperback | 9781780644554
August 2016 | ePDF 9781780644561 | ePub 9781786390431
Description
Intensely practical and down to earth, this text covers the breadth of health emergency preparedness, resilience and response topics in the context of inter-disciplinary and whole society responses to a range of threats. It includes public, private and third sector roles in preparation for and in response to natural and man-made events, such as: major incident planning; infectious disease epidemics and pandemics; natural disasters; terrorist threats; and business and service continuity management.

The book builds upon the basics of risk assessment and writing an emergency plan, and then covers inter-agency working, command and control, communication, personal impact and business continuity as well as training, exercises and post-incident follow up. Detailing the full emergency preparedness and civil protection planning cycle, the book is illustrated throughout with real-life examples and case studies from global experts in the field for countries with both advanced and developing healthcare systems.

This practical handbook covering the essential aspects of major incident and disaster management is ideal for undergraduate and master's students in emergency management and public health, as well as for practitioners in emergency preparedness and civil protection. It will be valuable to all health practitioners from ambulance, hospital, primary and community care, mental health and public health backgrounds.
Table of contents
1: Introduction: Why do we need to Prepare?
3: Risk Assessment
4: Writing an Emergency Plan
5: Emergency Planning and Response: Working in Partnership
6: Interprofessional Working: Understanding some Emotional Barriers and Unconscious Processes That Might Influence Practice in Group and Team Work
7: Command, Control and Communication
8: Communications during a Health Emergency
9: Psychosocial and Mental Health Care Before, During and After Emergencies, Disasters and Major Incidents
10: Business Continuity
11: Training and Exercising for Emergency Preparedness, Resilience and Response
12: Post-incident Follow-up
13: Mass Casualty Incidents
14: Preparedness and Response to Pandemics and other Infectious Disease Emergencies
15: CBRN Incidents
16: A Military Case Study
17: From Pandemics to Earthquakes: Health and Emergencies in Canterbury, New Zealand
Readership
Suitable for public health practitioners and postgraduate students.
Reviews
Have you read this book, or used it for one of your courses? We would love to hear your feedback. Email our reviews team to submit a review.
Chloe Sellwood, BSc (Hons) PhD FRSPH DipHEP, is the Pandemic Influenza Resilience Manager for National Health Service (NHS) England, within the Emergency Preparedness, Resilience and Response (EPRR) Team. She leads NHS England internal pandemic influenza preparedness as a subject matter expert and is coordinating national pandemic preparedness across the NHS, with a specific focus on London. Her experience in pandemic influenza ranges from local to international levels and encompasses scientific, strategic and operational aspects, in both preparedness and response. She spent over 7 years at the Health Protection Agency, including 3 years as the Senior Scientist and Coordinator of the Pandemic Influenza Office. In 2008 she joined NHS London (the then strategic health authority for London) as the Pandemic Influenza Resilience Manager and was heavily involved in the response to the swine flu pandemic. In 2010 she assumed the additional role of 2012 Health Resilience for the NHS across London for the Olympic and Paralympic Games. Since autumn 2014 she assumed the strategic leadership for NHS Ebola preparedness in London. She is the co-editor of, and a contributing author to, two textbooks on pandemic influenza, as well as many other articles and papers on influenza resilience. She has worked with the World Health Organization and the European Centre for Disease Prevention and Control on international consultations, as well as on secondment to the Department of Health (England) Pandemic Influenza Preparedness Programme.
Andy Wapling, OStJ MSc FRSPH FICPEM, is the Head of Emergency Preparedness, Resilience and Response for NHS England South Region. Andy provides strategic leadership and assurance across providers and commissioners of NHS-funded care for a quarter of the UK population. Andy has been involved in emergency preparedness for over 20 years where he has worked in private, voluntary and public sector organizations. He has been directly involved in the response to many emergencies including the Paddington rail disaster 1999, Soho bombing 1999, 7th July London bombings 2005, Yorkshire flooding 2007, pandemic influenza 2009 and many more. Andy obtained a Master's degree in Civil Emergency Management in 2005 at City University London and continues to support others in their education as a visiting lecturer at Loughborough University on the Diploma of Health Emergency Preparedness Resilience and Response. Andy maintains his connection with the voluntary sector and is the National Service Delivery Adviser for St John Ambulance. As a part of this role Andy is responsible in providing the charity with advice on national emergency preparedness policy. Andy was admitted into the Most Venerable Order of St John of Jerusalem in 2001 and further promoted to Officer of the Order in 2012.
Like most websites we use cookies. This is to ensure that we give you the best experience possible. Continuing to use
CABI.org
means you agree to our use of cookies. If you would like to, you can learn more about the cookies we use
here
.
Privacy Overview
This website uses cookies to improve your experience while you navigate through the website. Out of these, the cookies that are categorized as necessary are stored on your browser as they are essential for the working of basic functionalities of the website. We also use third-party cookies that help us analyze and understand how you use this website. These cookies will be stored in your browser only with your consent. You also have the option to opt-out of these cookies. But opting out of some of these cookies may affect your browsing experience.