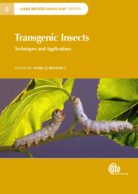 Transgenic Insects
Techniques and Applications
Edited by: Mark Quentin Benedict, Centers for Disease Control and Prevention, USA
October 2014 | Hardback | 398 Pages | 9781780644516
November 2019 | Paperback | 398 Pages | 9781786395436
October 2014 | ePDF 9781780644523 | ePub 9781789244632
Series : CABI Biotechnology Series
£104.55 | €137.30 | $197.30
Description
Insect transgenesis promises improvements in agriculture, pharmaceuticals and public health. Many important insects can now be routinely transformed with effectors that have useful applications. Agriculture presents the largest market for transgenic insects and has a foundational history of success with sterile insect technique for control of pests including Mediterranean fruit flies and screwworms. Biotechnology will contribute superior markers, suppressible sterility and sex-conversion. Public health is also seeing transgenic mosquitoes developed which suppress natural populations and are incapable of transmitting disease. Experts in the field will contribute their insights into the latest technology and its applications. Authors will also consider the larger risks, social and economic aspects of transgenic insects whose value must be proven in political, regulatory and public acceptance arenas.
Table of contents
PART 1: GERMLINE TRANSFORMATION TECHNOLOGY
1:       Transposons for Insect Transformation David A. O'Brochta, Kasim George and Hanfu Xu
2:       Transposon-Based Technologies for Insects David A. O'Brochta, Kasim George and Hanfu Xu
3:       Sex-, Tissue- and Stage-Specific Transgene Expression Andrew Marc Hammond and Tony Nolan
4:       Docking Systems for Site-Directed Transgene Integration Paul Eggleston and Janet M. Meredith
5:       Inducible and Repressible Systems for Transgene Expression Rosemary  S. Lees, Rocco D'Amato and Mark Q. Benedict
6:       Sex Ratio Manipulation for Insect Population Control Philippos A. Papathanos, Nikolai Windbichler and Omar S. Akbari
7:       Conditional Dominant Lethals – RIDL Luke Alphey, Martha Koukidou and Neil I. Morrison
PART 2: APPLICATIONS OF TRANSGENIC INSECTS
8:       Tephritid Fruit Fly Transgenesis and Applications Alfred M. Handler and Marc F. Schetelig
9:       Silkworm Transgenesis and Applications Hideki Sezutsu and Toshiki Tamura
10:     Transgenic Approaches for Sterile Insect Control of Dipteran Livestock Pests and Lepidopteran Crop Pests Maxwell J. Scott, Neil I. Morrison and Gregory S. Simmons
11:    Antipathogen Effector Molecules: Current and Future Strategies Michael A. Riehle and Shirley Luckhart
12:    Sexual Sterilization of Mosquitoes Paolo Gabrieli, Eric Marois and Flaminia Catteruccia
PART 3: ALTERNATIVE TRANSGENIC APPROACHES TO MODIFYING INSECT PHENOTYPES
13:     Paratransgenesis in Mosquitoes and Other Insects: Microbial Ecology and Bacterial Genetic Considerations David J. Lampe and Nicholas J. Bongio
14:     Asaia Paratransgenesis in Mosquitoes Guido Favia
15:     Paratransgenic Control of Chagas Disease Ivy Hurwitz, Nicole Klein, Adam P. Forshaw and Ravi V. Durvasula
16:     Tsetse Paratransgenesis: a Novel Strategy for Reducing the Spread of African Trypanosomiasis Brian L. Weiss and Serap Aksoy
PART 4: CONSIDERATIONS FOR THE RELEASE OF TRANSGENIC INSECTS
17:     RIDL: Modelling Release of Insects Carrying a Dominant Lethal Nina Alphey and Michael B. Bonsall
18:     Assessing Risk of Transgenic Insects M.M. Quinlan
19:     Economics of Transgenic Insects for Field Release John D. Mumford and L. Roman Carrasco
20:     Risk Analysis and the Regulation of Transgenic Insects Camilla  Beech and Tom Miller
21:     Public Acceptability of New Insect Vector Control Technologies Katherine F. King, Pamela Kolopack, Lara Zahabi-Bekdash and James V. Lavery
22:     The Cartagena Protocol on the Transboundary Movement of Living Modified Organisms: The Regulation of Trade in Transgenic Organisms under International and European Environmental Law Ricardo Pereira
Reviews
Have you read this book, or used it for one of your courses? We would love to hear your feedback. Email our reviews team to submit a review.
Mark has a PhD in entomology with an emphasis on molecular biology and genetics from the University of Florida. He has been a developer of technology for developing transgenic insects, developed insectary methods for producing mosquitoes for release into the field, directed field studies underlying releases of transgenic insects and assisting developing country operations where transgenic insects will be used. He has worked at USDA, the Centers for Disease Control and Prevention (CDC), the International Atomic Energy Agency and the University of Perugia. He is currently a research biologist at the CDC and is based in Atlanta, GA USA. He has contributed book chapters and over 100 peer reviewed publications.
Like most websites we use cookies. This is to ensure that we give you the best experience possible. Continuing to use
CABI.org
means you agree to our use of cookies. If you would like to, you can learn more about the cookies we use
here
.
Privacy Overview
This website uses cookies to improve your experience while you navigate through the website. Out of these, the cookies that are categorized as necessary are stored on your browser as they are essential for the working of basic functionalities of the website. We also use third-party cookies that help us analyze and understand how you use this website. These cookies will be stored in your browser only with your consent. You also have the option to opt-out of these cookies. But opting out of some of these cookies may affect your browsing experience.