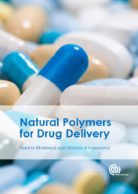 Natural Polymers for Drug Delivery
Edited by: Harsha Kharkwal, Amity University, India, Srinivas Janaswamy, South Dakota State University, USA
December 2016 | Hardback | 9781780644479
December 2016 | ePDF 9781780644486 | ePub 9781786390745
£100.99 | €132.80 | $169.95
Description
Natural polymers have been utilized extensively in food, pharmaceuticals, cosmetics, textiles, oil drilling and paint industries. Their non-toxic and inexpensive attributes readily enhance their commercial acceptability and make them potent agents in lieu of synthetic polymers.

This book explores the opportunistic utility of natural polymers in developing effective drug delivery systems and provides a comprehensive and up-to-date analysis of their source, chemical structure and mechanism of action. Covering novel polymers for drug delivery - in particular extracts from plants, microorganisms and proteins, as well as water soluble and water insoluble biodegradable polymers - it presents an encyclopaedic overview of natural polymers':
- quintessential roles in binding drugs towards enhancing bioavailability
- modification and derivatization for targeted delivery
- role as active drugs

Natural Polymers for Drug Delivery is an invaluable resource for researchers, students and industrial scientists in the fields of biochemistry, chemistry, pharmacology and food science.
Table of contents
1: Natural Polymers for Drug Delivery: An Introduction
Section I: Drug Delivery Based on Different Classes of Polymers
2: Cellulose-based Polymeric Systems in Drug Delivery
3: Hydrocolloids-based Hydrogels in Drug Delivery
4: Water Soluble Biodegradable Polymers for Drug Delivery
5: Polysaccharide-based Drug Carriers
6: Polymer-based Nanoparticles for Drug Delivery Systems and Cancer Therapeutics
7: Polymer Nanocomposite-based Biosensors for Drug Delivery Applications
Section II: Polymeric Interaction and Conjugates
8: Polymer-Drug Conjugates: Targeted Drug Delivery
9: Protein-Drug Conjugates: A New Class of Biotherapeutics
10: Microencapsulation for Controlled Gastrointestinal Delivery of Probiotics and Prebiotics
Section III: Disease-specific Drug Delivery Systems
11: Chitosan in Drug Delivery and Targeting for Cancer Treatment
12: Polymers as Biodegradable Matrices in Transdermal Drug Delivery
13: Ocular Drug Delivery Systems
14: Natural Polymers Targeting Habitual Disease
15: Bioengineered Wound and Burn Healing Substitutes: Novel Design for Biomedical and General Applications
Reviews
Have you read this book, or used it for one of your courses? We would love to hear your feedback. Email our reviews team to submit a review.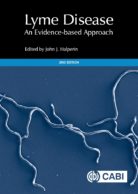 Lyme Disease
Edited by: John Halperin
From
£45.00 | €50.00 | $60.00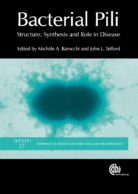 Bacterial Pili
Edited by: Michele A Barocchi, John Telford
From
£89.99 | €117.00 | $170.95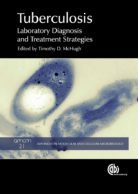 Tuberculosis
Edited by: Timothy McHugh
From
£110.20 | €143.15 | $210.05
Like most websites we use cookies. This is to ensure that we give you the best experience possible. Continuing to use
CABI.org
means you agree to our use of cookies. If you would like to, you can learn more about the cookies we use
here
.
Privacy Overview
This website uses cookies to improve your experience while you navigate through the website. Out of these, the cookies that are categorized as necessary are stored on your browser as they are essential for the working of basic functionalities of the website. We also use third-party cookies that help us analyze and understand how you use this website. These cookies will be stored in your browser only with your consent. You also have the option to opt-out of these cookies. But opting out of some of these cookies may affect your browsing experience.