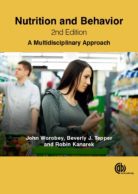 Nutrition and Behavior
A Multidisciplinary Approach
2nd Edition
By: John Worobey, Rutgers University, New Jersey, USA, Beverly Tepper, Rutgers University, New Jersey, USA, Robin B Kanarek, Tufts University, Medford, USA
August 2015 | Hardback | 272 Pages | 9781780644448
August 2015 | Paperback | 272 Pages | 9781780644455
$210.05 | £127.20 | €164.80
Description
The relationship between nutrition and behaviour is bi-directional in nature, with nutritional factors able to affect activity and disposition, and behavior impacting diet and food intake. This book reviews these links, starting with their complex neurobiological basis, such as in the case of folate deficiency and cognitive decline. It also illustrates how behaviour may determine nutritional choices or status through peer modelling and poor dietary habits. Micronutrients and eating disorders are then critically addressed, with a review of current research methods and results, before extra-nutritional influencers on behaviour such as caffeine, herbal supplements and alcohol are discussed in the final section.
Table of contents
1: Introduction
2: Concepts and Models in Nutrition and Behavior
3: Research Methods and Analytic Strategies
4: Direct Effects of Nutrition on Behavior: Brain–Behavior Connections
5: Short-term Effects of Nutrition on Behavior: Neurotransmitters
6: Effects of Chronic and Acute Forms of Undernutrition
7: B Vitamins, the Central Nervous System, and Behavior
8: Minerals, the Central Nervous System, and Behavior
9: Dietary Supplements and Mental Functioning
10: Bio-behavioral and Psychosocial Influences on Food Selection
11: Dietary Sugar and Behavior
12: Caffeine, the Methylxanthines, and Behavior
13: Alcohol, Brain Functioning, and Behavior
14: Eating Disorder Syndromes: Anorexia and Bulimia Nervosa
15: Behavioral Aspects of Overweight and Obesity
Reviews
Have you read this book, or used it for one of your courses? We would love to hear your feedback. Email our reviews team to submit a review.
Like most websites we use cookies. This is to ensure that we give you the best experience possible. Continuing to use www.cabi.org means you agree to our use of cookies. If you would like to, you can learn more about the cookies we use here.