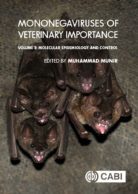 Mononegaviruses of Veterinary Importance, Volume 2
Molecular Epidemiology and Control
Edited by: Muhammad Munir, Lancaster University, UK
December 2016 | Hardback | 9781780644172
December 2016 | ePDF 9781780644189 | ePub 9781786390820
£143.15 | €185.40 | $238.90
Description
The Mononegavirales is an order of viruses affecting large, small and marine animals and is responsible for diseases including Rinderpest, Rabies and Ebola. This book discusses the epidemiology and control of Mononegaviruses that pose a significant threat to animals in terms of severity and epidemiological risk. The book also addresses viruses with zoonotic potential, and many that can be used as models in the study of infectious disease.

With its comprehensive coverage, each chapter is dedicated to a different disease and has been authored by renowned scientists who have made seminal contributions to the field. This prestige reference work is arranged over two volumes: volume 1 pathobiology and molecular diagnosis, and volume 2 molecular epidemiology and control. This broad ranging text covers mononegaviral diseases of livestock, horses, dogs and cats as well as rodents, primates, fish and marine mammals, and will be a valuable reference source for virologists, field veterinarians, infection and molecular biologists as well as immunologists and animal scientists.
Table of contents
Part I: Mononegaviruses of Livestock, Horses, Dogs and Cats

Chapter 1: Bornaviruses
Chapter 2: Newcastle Disease Virus
Chapter 3: Hendra and Nipah
Chapter 4: Canine Distemper Virus
Chapter 5: Peste des Petits Ruminants
Chapter 6: Contribution of Epidemiological Knowledge and Control Strategies in the Eradication of Rinderpest Virus
Chapter 7: Bovine Parainfluenza Virus Type 3
Chapter 8: Porcine Rubulavirus (PorPV-LPMV)
Chapter 9: Bovine Respiratory Syncytial Virus
Chapter 10: Avian Metapneumovirus
Chapter 11: Rabies Virus

Part II: Mononegaviruses of Rodents, Primates, Fish and Sea Mammals

Chapter 12: Veterinary Importance of Filoviruses
Chapter 13: Sea Mammal Morbilliviruses
Chapter 14: Infectious Hematopoietic Necrosis Virus
Readership
Veterinary virologists and animal scientists.
Reviews
Have you read this book, or used it for one of your courses? We would love to hear your feedback. Email our reviews team to submit a review.
Like most websites we use cookies. This is to ensure that we give you the best experience possible. Continuing to use
CABI.org
means you agree to our use of cookies. If you would like to, you can learn more about the cookies we use
here
.
Privacy Overview
This website uses cookies to improve your experience while you navigate through the website. Out of these, the cookies that are categorized as necessary are stored on your browser as they are essential for the working of basic functionalities of the website. We also use third-party cookies that help us analyze and understand how you use this website. These cookies will be stored in your browser only with your consent. You also have the option to opt-out of these cookies. But opting out of some of these cookies may affect your browsing experience.