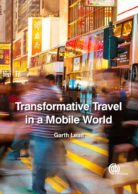 Transformative Travel in a Mobile World
By: Garth Lean, Western Sydney University, Australia
December 2015 | Hardback | 9781780643991
December 2015 | ePDF 9781780644004 | ePub 9781780647548
Description
This book presents the re-theorisation of travel and transformation. It explores the factors that influence the behaviours of a traveller, how these become entwined in experiences and how travel experiences continue on a traveller's return. It uses the notion of transformation to redevelop the temporal and spatial boundaries of physical travel, develop a model for unpacking transformation and to look at new methods in the exploration of travel research.
Table of contents
1: Mobilising Travel and Transformation
-: Story I – Nicole
2: Investigating Transformative Travel – A Mobile, Embodied and Sensual Approach
-: Story II – Andrew
3: 'Before'
-: Story III – Tegan
4: Travels through Mobile Spaces, Places and Landscapes – A Sensual Essay
-: Story IV – Carita
5: 'During'
-: Story V – Evelyn
6: 'After'
7: Afterword: Transformative Travel in a Mobile World
Reviews
Transformative Travel in a Mobile World is a benchmark argument for our global and social mediated times. Garth Lean engages with old debates and provides new analytical constructs for the investigation of the possibilities of individual transformation through travel. With theoretical finesse and rich empirical case materials, Garth explores how travel and transformation is performed by drawing attention to the spatial, cultural, embodied, material and emotional dimensions. Gordon Waitt, University of Wollongong, Australia
Like most websites we use cookies. This is to ensure that we give you the best experience possible. Continuing to use
CABI.org
means you agree to our use of cookies. If you would like to, you can learn more about the cookies we use
here
.
Privacy Overview
This website uses cookies to improve your experience while you navigate through the website. Out of these, the cookies that are categorized as necessary are stored on your browser as they are essential for the working of basic functionalities of the website. We also use third-party cookies that help us analyze and understand how you use this website. These cookies will be stored in your browser only with your consent. You also have the option to opt-out of these cookies. But opting out of some of these cookies may affect your browsing experience.