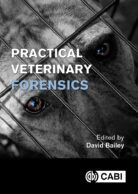 Practical Veterinary Forensics
Edited by: David Bailey, Veterinary Forensic Consultant, UK
June 2016 | Hardback | 9781780642949
£81.30 | €105.60 | $136.10
Description
Veterinarians often come into contact with the law in cases of animal cruelty, domestic animal and wildlife crimes, and human crimes with an animal element. This book provides practical information and training on how to operate within a crime scene. It covers the tests that may need to be carried out, collecting evidence, preparing reports and giving evidence in court as an expert witness.

Concentrating on the basic principles and background knowledge needed, the book includes hair, blood and bite mark analysis as well as an overview of firearms injury. It explores wider concepts such as the human-animal bond and one health, going on to give practical guidance and numerous case studies, which bring the book to life and into the real world of the busy crime scene.

Practical Veterinary Forensics is an indispensable guide to all veterinarians working in cases of animal cruelty, abuse and crimes against animals. It is essential for welfare organizations, animal shelters and those requiring an introduction to veterinary forensic science.
Table of contents
1: Introduction: What is Veterinary Forensics?
2: Forensic Philosophy
3: Law & Animals
4: Forensic Science and Applications to One Health
5: Evidence Collection and Gathering: The Living Evidence
6: Forensic Examination of Animal Hair
7: Firearms and Ballistics
8: Blood and Blood Pattern Analysis
9: Understanding the Nature of Document Evidence
10: Forensic Toxicology
11: Bitemark Analysis
12: Report Writing
13: The Human-Animal Interaction
Readership
Suitable for veterinarians, welfare organisations, animal shelters and anyone requiring an introduction to veterinary forensic science.
Reviews
Have you read this book, or used it for one of your courses? We would love to hear your feedback. Email our reviews team to submit a review.
Like most websites we use cookies. This is to ensure that we give you the best experience possible. Continuing to use
CABI.org
means you agree to our use of cookies. If you would like to, you can learn more about the cookies we use
here
.
Privacy Overview
This website uses cookies to improve your experience while you navigate through the website. Out of these, the cookies that are categorized as necessary are stored on your browser as they are essential for the working of basic functionalities of the website. We also use third-party cookies that help us analyze and understand how you use this website. These cookies will be stored in your browser only with your consent. You also have the option to opt-out of these cookies. But opting out of some of these cookies may affect your browsing experience.