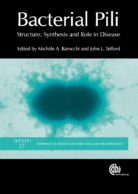 Bacterial Pili
Structure, Synthesis and Role in Disease
Edited by: Michele A Barocchi, Novartis Vaccines & Diagnostics Srl, John Telford, formerly Novartis Vaccines & Diagnostics Srl, Italy
April 2014 | Hardback | 224 Pages | 9781780642550
October 2019 | Paperback | 220 Pages | 9781786395283
April 2014 | ePDF 9781780642567 | ePub 9781789243741
£92.25 | €119.95 | $175.20
Description
Bacterial pili play important roles as environmental sensors, in host colonization and in biofilm formation, enabling bacteria to interact with the environment, with surfaces and with other bacteria and host cells. Most bacteria, both Gram positive and Gram negative, and almost all bacterial pathogens, are piliated. This book discusses the synthesis, structure, evolution, function and role in pathogenesis of these complex structures, and their basis for vaccine development and therapeutics for Streptococcus pathogens. It is an invaluable resource for researchers and students of medical microbiology.
Table of contents
A: Table of Contents
B: Foreword Sixty Years of Pilus research
1: The Vibrio cholerae toxin coregulated pilus: structure, assembly and function with implications for vaccine design
2: Conjugative pili
3: Pilus biogenesis by the chaperone-usher pathway
4: Type 1 and P Pili of Uropathogenic Escherichia coli
5: Type IV pili: functions and biogenesis
6: The Pseudomonas aeruginosa type IV pilus assembly system in three dimensions
7: Corynebacterium diphtheriae pili: Assembly, Structure, and Function
8: Three-dimensional structures of pilin subunits and their role in Gram-positive pilus assembly and stability
9: Sortase structure and specificity in Streptococci
10: Pili of Streptococcus pyogenes
11: The role of pili in the formation of biofilm and bacterial communities
12: Fimbrae/Pili from oral bacteria
13: Pilus based vaccine development in Streptococci: Variability, Diversity & Immunological responses
Reviews
Have you read this book, or used it for one of your courses? We would love to hear your feedback. Email our reviews team to submit a review.
Like most websites we use cookies. This is to ensure that we give you the best experience possible. Continuing to use
CABI.org
means you agree to our use of cookies. If you would like to, you can learn more about the cookies we use
here
.
Privacy Overview
This website uses cookies to improve your experience while you navigate through the website. Out of these, the cookies that are categorized as necessary are stored on your browser as they are essential for the working of basic functionalities of the website. We also use third-party cookies that help us analyze and understand how you use this website. These cookies will be stored in your browser only with your consent. You also have the option to opt-out of these cookies. But opting out of some of these cookies may affect your browsing experience.