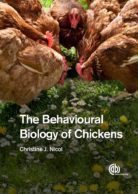 Behavioural Biology of Chickens, The
By: Christine Nicol, The Royal Veterinary College, UK
May 2015 | Hardback | 9781780642499
May 2015 | Paperback | 9781780642505
$155.50 | £80.00 | €107.00
Description
Chickens are by far the world's most widely farmed animal, kept for both meat and egg production. They are at the centre of many debates regarding housing and production systems, causing significant interest in what lies behind chicken behaviour. This accessible book covers sensory biology, behavioural development, preferences and aversions, social behaviour, learning and cognition, behavioural issues in different systems and solutions for behavioural problems. Authored by an authority on chicken ethology, it brings together the fields of animal behaviour, neuroscience, psychology and epidemiology to provide a comprehensive understanding of chicken behaviour and help improve the lives of farmed chickens around the world.
Table of contents
1: Genetics and Domestication
2: Sensory Biology
3: Development of the Brain and Behaviour
4: Behavioural Contributions to Welfare Assessment
5: Behavioural Needs, Priorities and Preferences
6: Social Behaviour
7: Learning, Intelligence and Cognition
8: Applied Ethology of Broilers and Broiler Breeders
9: Applied Ethology of Laying Hens
-: Conclusions
Readership
Suitable for students and researchers of animal behaviour and welfare, poultry welfare, and poultry production, as well as commercial poultry producers, industry personnel and smallholder farmers.
Reviews
"Fascinating, thorough and beautifully written" - Georgia Mason, University of Guelph, Canada
"It should be on the shelf of every poultry welfare researcher and practitioner, worldwide." - Tom Smulders, Newcastle University, UK, Animal Welfare, The UFAW journal
'It does not just advertise what the author thinks we know about chicken behavioural biology but actually lays out the evidence... Of tremendous value to all students of poultry science, animal behaviour and animal welfare in general... A masterpiece in the communication of science.' - Professor Dr. Hanno Wurbel, University of Bern, Switzerland
Like most websites we use cookies. This is to ensure that we give you the best experience possible. Continuing to use www.cabi.org means you agree to our use of cookies. If you would like to, you can learn more about the cookies we use here.