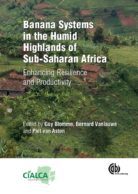 Banana Systems in the Humid Highlands of Sub-Saharan Africa
Enhancing Resilience and Productivity
Edited by: Guy Blomme, Bioversity, Uganda, Bernard Vanlauwe, Tropical Soil Biology and Fertility Programme, Nairobi, Kenya, Piet van Asten, IITA, Uganda
November 2013 | Hardback | 268 Pages | 9781780642314
November 2013 | ePDF 9781780642321 | ePub 9781789243758
£102.40 | €130.40 | $192.65
Description
'Banana Systems in the Humid Highlands of Sub-Saharan Africa: Enhancing Resilience and Productivity' addresses issues related to agricultural intensification in the (sub)humid highland areas of Africa, based on research carried out in the Great Lakes Region by the Consortium for Improving Agriculture-based Livelihoods in Central Africa.
Table of contents
A: Preface
B: Acknowledgements
Part I: Musa Germplasm Diversity and Evaluation
1: Plantain Collection and Morphological Characterization in Democratic Republic of Congo: Past and Present Activities and Prospects
2: Musa Germplasm Diversity Status across a Wide Range of Agro-ecological Zones in Rwanda, Burundi and Eastern Democratic Republic of Congo
3: Banana Genotype Composition along the Uganda–Democratic Republic of Congo Border: A Gene Pool Mix for Plantain and Highland Bananas
4: Analysis of Farmer-preferred Traits as a Basis for Participatory Improvement of East African Highland Bananas in Uganda
5: Agronomic Evaluation of Common and Improved Dessert Banana Cultivars at Different Altitudes across Burundi
6: Growth and Yield of Plantain Cultivars at Four Sites of Differing Altitude in North Kivu, Eastern Democratic Republic of Congo
Part II: Novel Seed Systems
7: Macropropagation of Musa spp. in Burundi: A Preliminary Study
8: Challenges and Opportunities for Macropropagation Technology for Musa spp. among Smallholder Farmers and Small and Medium-scale Enterprises
9: Impact of Arbuscular Mycorrhizal Fungi on Growth of Banana Genotypes in Three Different, Pasteurized and Non-pasteurized Soils of Rwanda
10: Indigenous Arbuscular Mycorrhizal Fungi and Growth of Tissue-cultured Banana Plantlets under Nursery and Field Conditions in Rwanda
Part III: Banana Pests and Diseases
11: Development of ELISA for the Detection of Xanthomonas campestris pv. musacearum, the Causal Agent of BXW: Banana Xanthomonas Wilt
12: Systemicity and Speed of Movement of Xanthomonas campestris pv. musacearum in the Banana Plant after Garden Tool-mediated Infection
13: Use of DNA Capture Kits to Collect Xanthomonas campestris pv. musacearum and Banana Bunchy Top Virus Pathogen DNA for Molecular Diagnostics
14: Banana Xanthomonas Wilt Management: Effectiveness of Selective Mat Uprooting Coupled with Control Options for Preventing Disease Transmission. Case Study in Rwanda and Eastern Democratic Republic of Congo
15: Effect of Length of Fallow Period after Total Uprooting of a Xanthomonas Wilt-infected Banana Field on Infection of Newly Established Planting Materials: Case Studies from Rwanda and Eastern Democratic Republic of Congo
16: Distribution, Incidence and Farmer Knowledge of Banana Xanthomonas Wilt in Rwanda
17: Xanthomonas Wilt Incidence in Banana Plots Planted with Asymptomatic Suckers from a Diseased Field Compared with Plots Using Suckers from a Disease-free Zone in North Kivu, Eastern Democratic Republic of Congo
Part IV: Banana Intercropping Systems
18: Coffee/Banana Intercropping as an Opportunity for Smallholder Coffee Farmers in Uganda, Rwanda and Burundi
19: The Use of Trees and Shrubs to Improve Banana Productivity and Production in Central Uganda: An Analysis of the Current Situation
20: Effect of Banana Leaf Pruning on Legume Yield in Banana–Legume Intercropping Systems in Eastern Democratic Republic of Congo
21: A Comparative and Systems Approach to Banana Cropping Systems in the Great Lakes Region
22: Agronomic Practices for Musa across Different Agro-ecological Zones in Burundi, Eastern Democratic Republic of Congo and Rwanda
Part V: Banana Use, Postharvest and Nutrition
23: The Beer Banana Value Chain in Central Uganda
24: Contribution of Bananas and Plantains to the Diet and Nutrition of Musa-dependent Households with Preschoolers in Beni and Bukavu Territories, Eastern Democratic Republic of Congo
Part VI: Surveillance, Adoption and Communicating Knowledge
25: Processes and Partnerships for Effective Regional Surveillance of Banana Diseases
26: Adoption and Impact of Tissue Culture Bananas in Burundi: An Application of a Propensity Score Matching Approach
27: Communication Approaches for Sustainable Management of Banana Xanthomonas Wilt in East and Central Africa
28: A Global Information and Knowledge Sharing Approach to Facilitate the Wider Use of Musa Genetic Resources
Reviews
Have you read this book, or used it for one of your courses? We would love to hear your feedback. Email our reviews team to submit a review.
Like most websites we use cookies. This is to ensure that we give you the best experience possible. Continuing to use
CABI.org
means you agree to our use of cookies. If you would like to, you can learn more about the cookies we use
here
.
Privacy Overview
This website uses cookies to improve your experience while you navigate through the website. Out of these, the cookies that are categorized as necessary are stored on your browser as they are essential for the working of basic functionalities of the website. We also use third-party cookies that help us analyze and understand how you use this website. These cookies will be stored in your browser only with your consent. You also have the option to opt-out of these cookies. But opting out of some of these cookies may affect your browsing experience.