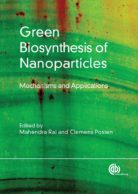 Green Biosynthesis of Nanoparticles
Mechanisms and Applications
Edited by: Mahendra Rai, SGB Amravati University, India, Clemens Posten, Karlsruhe Institute of Technology
December 2013 | Hardback | 248 Pages | 9781780642239
$210.05 | £110.20 | €143.15
Description
There are physical and chemical methods of synthesis of nanomaterials. But due to the damage caused by these methods to the environment there is a pressing need of green nanotechnology, which is a clean and eco-friendly technology for the development of nanomaterials. The present book includes green synthesis of nanoparticles by algae, diatoms and plants. The mechanism behind the synthesis of nanoparticles will also be discussed.

The book would be a valuable resource for students, researchers and teachers of biology, chemistry, chemical technology, nanotechnology, microbial technology and those who are interested in green nanotechnology.
Table of contents
1: Green technology for Nanoparticles on Biomedical Application
2: Multiple Strategic Approaches for Green Synthesis and Application of Silver and Gold Nanoparticles
3: Role of Natural Products in Green Synthesis of Nanoparticles
4: Biological Synthesis of Nanoparticles Using Algae
5: Synthesis of Metallic Nanoparticles by Diatoms – Prospect and Applications
6: Green Synthesis of Silver and Gold Nanoparticles Using Plant Extracts
7: Rolls and Sandwiches: Cages and Barrels
8: Understanding the Involved Mechanisms in Plant Mediated Synthesis of Nanoparticles
9: Synthesis of Nanostructured Calcite Particles In Coccolithophores, Unicellular Algae
10: Phytotoxic Effects of Metal Nanoparticles in Plants
11: Biomineralization, Properties and Applications of Bacterial Magnetosomes
12: Interactions Between Plant-Produced Nanoparticles And Antibiotics As a Way of Coping with Bacterial Resistance
13: Nanostructured particles from coccolithophores – an undiscovered resource for applications
14: Applications of Nanoparticles Synthesized by Yeasts:Green and Eco-friendly Method
Reviews
Have you read this book, or used it for one of your courses? We would love to hear your feedback. Email our reviews team to submit a review.
Like most websites we use cookies. This is to ensure that we give you the best experience possible. Continuing to use www.cabi.org means you agree to our use of cookies. If you would like to, you can learn more about the cookies we use here.