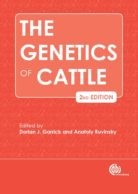 The Genetics of Cattle
2nd Edition
Edited by: Dorian Garrick, Iowa State University, USA, Anatoly Ruvinsky, University of New England, Australia
November 2014 | Hardback | 634 Pages | 9781780642215
November 2014 | ePDF 9781780642222 | ePub 9781789244038
£141.45 | €186.85 | $271.90
Description
Since the time of domestication more than 10,000 years ago, cattle have played an increasingly crucial role in the development of human civilizations. Progress has been quite remarkable since the turn of the century; the sequencing of the bovine genome in 2009 launched new avenues for furthering our understanding of theoretical and practical aspects of cattle genetics.

Covering a vast array of questions, this book reviews major topics from molecular and developmental genetics, disease resistance and immunogenetics to genetic improvement of dairy and beef breeds, addressing all current problems in the field. This second edition includes a new team of authors and completely new chapters on the genetics of fat production, nutrition, feed intake and efficiency, growth and body composition. Fully updated throughout, it provides a valuable resource on cattle genetics for researchers, breeders, veterinarians and postgraduate students.
Table of contents
a: Preface
Chapter 1: Systematics and phylogeny of cattle
Chapter 2: Genetic aspects of domestication
Chapter 3: Breeds of cattle
Chapter 4: Molecular genetics of colour variation
Chapter 5: Genetics of morphological traits and inherited disorders
Chapter 6: Cytogenetics and chromosome maps
Chapter 7: Bovine genomics
Chapter 8: Bovine immunogenetics
Chapter 9: Genetics of disease resistance
Chapter 10: Molecular biology and genetics of bovine spongiform encephalopathy
Chapter 11: Genetics of behaviour in cattle
Chapter 12: Genetics of reproduction in cattle
Chapter 13: Modern reproductive technologies and breed improvement
Chapter 14: Developmental genetics
Chapter 15: Genetic improvement of dairy cattle
Chapter 16: Molecular genetics of milk protein production
Chapter 17: Genetics fatty acids composition in bovine milk and beef
Chapter 18: Genetic improvement in beef cattle
Chapter 19: Genomic prediction and genome-wide association studies in beef and dairy cattle
Chapter 20: Genetics of feed intake and efficiency.
Chapter 21: Genetics of growth and body composition
Chapter 22: Genetics of meat quality
Chapter 23: Genetic aspects of cattle adaptation in the tropics
Chapter 24: Standard genetic nomenclature
b: Index
Reviews
Have you read this book, or used it for one of your courses? We would love to hear your feedback. Email our reviews team to submit a review.
graduated from Massey University in New Zealand in 1982 and embarked on his career in animal breeding and genetics. Much of his work has involved national genetic evaluation and its application to cost-effective improvement of livestock populations. Prior to undertaking a PhD at Cornell University, Garrick worked at Massey University on the application of animal models to evaluation and estimation of genetic trends in pig and sheep improvement. He returned to Massey in 1988 and worked on across-breed animal evaluation in dairy cattle. In 1994 he was appointed to the A.L. Rae Chair in animal breeding and genetics at Massey University, a position he has held part-time since 2002 when he relocated to the USA. In 2007 he took up the inaugural appointment to the J.L. Lush endowed chair at Iowa State University, a position named after the father of animal breeding. His current research focus involves the use of genomic information in animal improvement. Garrick has published 150 papers in refereed journals, over 200 conference papers, and 12 book chapters. He has supervised 21 PhD students and presented over 700 oral presentations at conference and industry meetings.
Since graduation from Novosibirsk State University (Russia) in 1969 A. Ruvinsky has been working in several fields of genetics for more than 40 years. He received his PhD in 1974 and Dr.Sc. in 1985. In 1986 A. Ruvinsky was elected as head of laboratory of animal genetics and 1988 as Vice Director of the Institute of Cytology and Genetics of Russian Academy of Sciences. In 1993 A. Ruvinsky joined the University of New England, Australia. Professor Ruvinsky published more than 100 refereed papers in leading genetic journals and edited 14 books so far. This includes the series of books on mammalian genetics, which currently undergoes 2nd edition. His conceptual book "Genetics and Randomness" was published in 2009.
Like most websites we use cookies. This is to ensure that we give you the best experience possible. Continuing to use
CABI.org
means you agree to our use of cookies. If you would like to, you can learn more about the cookies we use
here
.
Privacy Overview
This website uses cookies to improve your experience while you navigate through the website. Out of these, the cookies that are categorized as necessary are stored on your browser as they are essential for the working of basic functionalities of the website. We also use third-party cookies that help us analyze and understand how you use this website. These cookies will be stored in your browser only with your consent. You also have the option to opt-out of these cookies. But opting out of some of these cookies may affect your browsing experience.