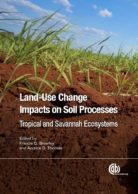 Land-Use Change Impacts on Soil Processes
Tropical and Savannah Ecosystems
Edited by: Francis Brearley, Manchester Metropolitan University, Andrew Thomas, Aberystwyth University, UK
September 2015 | Hardback | 200 Pages | 9781780642109
September 2015 | ePDF 9781780642116 | ePub 9781789244151
Description
This book examines the effects that land-use changes (notably agricultural intensification, logging, soil erosion, urbanisation and mining) have on soil characteristics and processes in tropical and savannah environments. It covers a range of geographical regions and environments as impacts of land use change are often site specific. The effects of land use change on various aspects of the soil ecosystem from both a chemical and biological perspective will be examined.
Table of contents
1: Land-use Change Impacts on Soil Processes in Tropical and Savannah Ecosystems: An Introduction
2: Effects of Land-use Changes on Biochemical and Microbial Parameters in Soils of the Andaman Islands, India
3: Evaluating the Impact of Oil Palm Agriculture and Logging on Soil Microbial Communities in South-east Asia
4: Microbial Functioning in Response to a Simulated Drought in Malaysian Rain Forest and Oil Palm Soils
5: Impact of Land-use Changes in the Amazon on Bacterial Diversity, Composition and Distribution
6: Acidification of Tropical Soils under Forest and Continuous Cropping in Thailand and Indonesia
7: The Importance of Soil Quality in the Safe Practice of Urban Agriculture in Zimbabwe, Kenya and South Africa
8: Urbanisation and Soil Nutrient Challenges and Opportunities: Lessons from Malawian Cities
9: Impact of Gold Mining on Mercury Contamination and Soil Degradation in Amazonian Ecosystems of French Guiana
10: Erosion and Sedimentation Effects on Soil Organic Carbon Redistribution in a Complex Landscape in Western Ecuador
11: Pastoralism and Kalahari Rangeland Soils
12: Changes in Soil Properties with Sugarcane Cropping in Mauritius
13: Patterns and Drivers of Soil Carbon Stocks And Isotopic Composition in Secondary Tropical Dry Forests of Costa Rica
14: Conversion of Pastures into Tectona grandis Plantations in Western Panamá: Effects on Soil Properties and the Mechanisms Underlying these Changes
15: Land-use Change Impacts on Soil Processes in Tropical and Savannah Ecosystems: Emerging Themes and Future Research Directions
Reviews
Have you read this book, or used it for one of your courses? We would love to hear your feedback. Email our reviews team to submit a review.
Like most websites we use cookies. This is to ensure that we give you the best experience possible. Continuing to use www.cabi.org means you agree to our use of cookies. If you would like to, you can learn more about the cookies we use here.