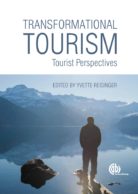 Transformational Tourism
Tourist Perspectives
Edited by: Yvette Reisinger, Gulf University for Science and Technology, Kuwait
April 2013 | Hardback | 256 Pages | 9781780642093
April 2013 | ePub 9781789244618
£90.20 | €118.25 | $169.95
Description
Transformational Tourism deals with the important issue of how travel and tourism can change human behaviour and have a positive impact on the world. The book focuses on human development in a world dominated by post-9/11 security and political challenges, economic and financial collapses, and environmental threats. It identifies various types of tourism that can transform human beings, such as educational, volunteer, survival, community-based, eco, farm, extreme, religious, spiritual, wellness, and mission tourism.
Table of contents
I: Preface
PART I: INTRODUCTION
1: Hopeful Tourism: a Transformational Perspective
PART II: TRANSFORMATION AND TOURISM
2: Transformation and Transformational Learning Theory
3: Connection between Travel, Tourism and Transformation
4: Not 'On Vacation': Survival Escapist Travel as an Agent of Transformation
PART III: WELLNESS, RETREAT, RELIGIOUS AND SPIRITUAL TOURISM
5: Transforming Quality of Life through Wellness Tourism
6: Retreat Tourism as a Form of Transformational Tourism
7: Nearer to God – Transformational Experiences of Short-term Mission Travellers
8: The Transformative Power of Yoga Tourism
PART IV: EXTREME SPORTS, BACKPACKING AND CULTURAL TOURISM
9: Extreme Sports as Transformational Tourism
10: Returning Home: Reflections on Lifestyle Transformation Resulting from International Backpacker Travels
11: Finding Themselves in San Blas, Panama
PART V: WWOOFING AND ECOTOURISM
12: WWOOFing Tourists, Beaten Tracks and Transformational Paths
13: The Next Stage of Eco-travel: Facilitating Transformation through Personal Ethics
PART VI: VOLUNTEER AND EDUCATIONAL TOURISM
14: Acculturation, Re-entry and Transformation: the Story of a Volunteer Tourist
15: Travel for Education: a Force for Peace and Cross-cultural Understanding?
16: Doing Good for God's Sake: the Role of Religion in Altruism. The Case of Volunteer Tourism
17: Conclusion
Readership
The first book on the market to focus on the emerging topic of transformational tourism, which is of significant current interest.
Reviews
Have you read this book, or used it for one of your courses? We would love to hear your feedback. Email our reviews team to submit a review.
Yvette Reisinger is Adjunct Professor of Business at James Cook University in Singapore 574421.
Her research interests include cross-cultural differences in behavior, communication, and socio-cultural impacts of tourism.
Like most websites we use cookies. This is to ensure that we give you the best experience possible. Continuing to use
CABI.org
means you agree to our use of cookies. If you would like to, you can learn more about the cookies we use
here
.
Privacy Overview
This website uses cookies to improve your experience while you navigate through the website. Out of these, the cookies that are categorized as necessary are stored on your browser as they are essential for the working of basic functionalities of the website. We also use third-party cookies that help us analyze and understand how you use this website. These cookies will be stored in your browser only with your consent. You also have the option to opt-out of these cookies. But opting out of some of these cookies may affect your browsing experience.