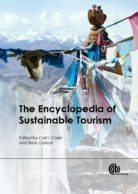 The Encyclopedia of Sustainable Tourism
Edited by: Carl Cater, Aberystwyth University, UK, Brian Garrod, Aberystwyth University, UK, Tiffany Low, Aberystwyth University, UK
October 2015 | Hardback | 662 Pages | 9781780641430
October 2015 | ePDF 9781780646305 |
Description
Tourism impacts globally upon ecology, economies, peoples, cultures and the built environment,
so devleopment must be sustainable to preserve the environment and culture it exploits. Taking
an interdisciplinary perspective, this volume presents a comprehensive synthesis of the diverse
considerations, language and terms particular to sustainable tourism. Writen by a global team of
academics and practitioners to reflect sustainable tourism from a truly worldwide perspective, this
book:
Includes articles covering all aspects of sustainability and tourism, helpfully categorized into:
'Types' of tourism; common 'Terms'; important 'Organizations' and 'Awards'; key 'Treaties' and
'Schemes'; as well as 'Technical' aspects of sustainable tourism development.
Presents detailed cross referencing between entries, suggestions for further reading and
relevant websites, and is fully referenced with an extensive bibliography.
Features a foreword from the Chair of the Global Sustainable Tourism Council (GSTC) and over
180 illustrations.
Table of contents
1: Foreword
2: Introduction
3: Sustainable Tourism
4: Alphabetical Entries
5: References
Reviews
"The encyclopedia of sustainable tourism is a stupendous task performed by Carl Cater and his team, besides 163 contributors coming from 28 geographic regions of the world." - Tej Vir Singh, Tourism Recreation Research - Tej Vir Singh
"This encyclopedia is a bold attempt to provide a reference work for sustainable tourism which turns out to be fruitful. Nonetheless, like any other encyclopedia, this volume is inevitably incomplete due to the limited pages and the everlasting evolvement of the subject. In the meantime, however, it expands the scope by providing links to external resources. By including plentiful illustrations and cases, it avoids being lifeless and dull with only theoretical accounts. In addition, it avoids interpreting sustainable tourism in a monotonous Western tone by inviting experts from around the world to participate in writing the entries. Illustrations and case studies of continents other than Europe, especially those of the emerging regions such as Asia and Africa, are amply used to add a global flavour to this volume. In summary, this encyclopedia is a useful tool for students, researchers, and practitioners in the field of tourism and sustainability. Not only is it an informative and rigorous reference one can turn to while conducting research, it is also an enjoyable and thought-provoking reading material to peruse during one's spare time." - Xiongbin Gao, University of Surrey, UK in Anatolia An International Journal of Tourism and Hospitality Research - Xiongbin Gao
Encyclopaedias are not meant to be read from start to finish-although such readers do exist- but those attempting to do just that will be facilitated and rewarded by over 180 carefully selected, black & white, pictures, tables and graphs. and over 30 interesting case studies (e.g. "Developing a wind farm into a sustainable tourist attraction" or " Community-based ecotourism in Cambodia"), of between 1 and 3 pages long. Many entries, including all organisational ones, include website links for further reading. In fact trying to read the encyclopaedia at random is also beneficial and thought-provoking as you are bound to find a variety of entries indirectly but closely associated with sustainable tourism, ranging from "Conflict Management" to "Human Rights" and "Social Ecology". Other assets include a detailed index and the extensive Bibliography (46 pages)...This is clearly a book to be adored by academic librarians, academics and all printed reference book fans...This comprehensive work is an instant classic as it will also serve as a record of what the world understood by and hoped for Sustainable Tourism in the early 21st Century. - ecoclub team
The Encyclopedia is a useful compilation of information and ideas in the area of sustainability - John Goodier, Consutant, Goklhawk Information, London, UK
Like most websites we use cookies. This is to ensure that we give you the best experience possible. Continuing to use
CABI.org
means you agree to our use of cookies. If you would like to, you can learn more about the cookies we use
here
.
Privacy Overview
This website uses cookies to improve your experience while you navigate through the website. Out of these, the cookies that are categorized as necessary are stored on your browser as they are essential for the working of basic functionalities of the website. We also use third-party cookies that help us analyze and understand how you use this website. These cookies will be stored in your browser only with your consent. You also have the option to opt-out of these cookies. But opting out of some of these cookies may affect your browsing experience.