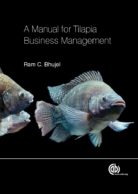 A Manual for Tilapia Business Management
By: Ram Bhujel, Asian Institute of Technology, Thailand
June 2014 | Hardback | 216 Pages | 9781780641362
June 2014 | ePDF 9781780641379 | ePub 9781789244199
£84.45 | €112.95 | $164.15
Description
Tilapias are an increasingly important farmed fish for human consumption. Hailed as an important source of protein for growing populations, production is set to double within the next ten years and expand beyond traditional areas of production in Africa and Asia. With a practical focus, this book is aimed at tilapia farmers and producers, describing best practice production methods, egg management, new technologies, nutrition, business practices, marketing, equipment maintenance, accounting and logistics.
Table of contents
a: Preface
1: Introduction
2: Tilapia Hatchery
3: Fry Nursing
4: Grow-out in Ponds
5: Grow-out in Cages
6: Polyculture
7: Integrated Farming
8: Fish Health Management and Biosecurity
9: Post-harvest Handling: Marketing and Processing
10: Business Models and Plan
b: Conclusions
c: Recommendations
Reviews
Have you read this book, or used it for one of your courses? We would love to hear your feedback. Email our reviews team to submit a review.
Like most websites we use cookies. This is to ensure that we give you the best experience possible. Continuing to use
CABI.org
means you agree to our use of cookies. If you would like to, you can learn more about the cookies we use
here
.
Privacy Overview
This website uses cookies to improve your experience while you navigate through the website. Out of these, the cookies that are categorized as necessary are stored on your browser as they are essential for the working of basic functionalities of the website. We also use third-party cookies that help us analyze and understand how you use this website. These cookies will be stored in your browser only with your consent. You also have the option to opt-out of these cookies. But opting out of some of these cookies may affect your browsing experience.