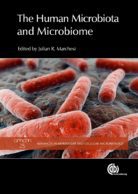 The Human Microbiota and Microbiome
Edited by: Julian Marchesi, Cardiff University, UK
May 2014 | Hardback | 208 Pages | 9781780640495
October 2019 | Paperback | 208 Pages | 9781786395320
May 2014 | ePDF 9781780644097 | ePub 9781789244090
£89.99 | €117.00 | $170.95
Description
Thousands of different microbial species colonize the human body, and are essential for our survival. This book presents a review of the current understanding of human microbiomes, the functions that they bring to the host, how we can model them, their role in health and disease and the methods used to explore them. Current research into areas such as the long-term effect of antibiotics makes this a subject of considerable interest. This title is essential reading for researchers and students of microbiology.
Table of contents
1: The Stomach and Small and Large Intestinal Microbiomes
2: The Oral Microbiome
3: The Human Urogenital Microbiome
4: The Lung Microbiome
5: The Human Skin Microbiome
6: Function of the Human Gut Microbiota
7: Models of the Human Microbiota and Microbiome In Vitro
8: In Vivo and Animal Models of the Human Gut Microbiome
9: The Gut Microbiota in Health and Disease
10: Next-generation Sequencing Methods to Investigate the Human Microbiome
11: Metabonomics for Understanding Gut Microbiome and Host Metabolic Interplay
Reviews
Have you read this book, or used it for one of your courses? We would love to hear your feedback. Email our reviews team to submit a review.
Like most websites we use cookies. This is to ensure that we give you the best experience possible. Continuing to use
CABI.org
means you agree to our use of cookies. If you would like to, you can learn more about the cookies we use
here
.
Privacy Overview
This website uses cookies to improve your experience while you navigate through the website. Out of these, the cookies that are categorized as necessary are stored on your browser as they are essential for the working of basic functionalities of the website. We also use third-party cookies that help us analyze and understand how you use this website. These cookies will be stored in your browser only with your consent. You also have the option to opt-out of these cookies. But opting out of some of these cookies may affect your browsing experience.