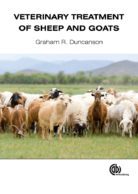 Veterinary Treatment of Sheep and Goats
By: Graham R Duncanson, Westover Veterinary Centre, UK
April 2012 | Hardback | 344 Pages | 9781780640037
April 2012 | Paperback | 344 Pages | 9781780640044
April 2012 | ePDF 9781780640051 |
£90.20 | €118.25 | $169.95
Description
Sheep and goats are farmed worldwide for meat, milk, skins and wool. This diverse range of uses means that many people rely on these animals as a source of income, food and warm clothing, though they can also be kept as pets. With an accessible structure designed for use in the field, this book provides a general veterinary guide to treating common conditions in these animals. It addresses veterinary medicines and their uses, on-site surgery, equipment, normal values and vital signs, vaccination, nutrition, dental treatment, poisoning and dermatology. Worldwide disease conditions are also covered in detail, with a particular focus on the welfare of the animal and economic reality. A valuable field guide for the veterinary practitioner, this book is also essential reading for veterinary students.
Table of contents
1: Breeds
2: Behaviour and Restraint
3: Vital Signs and Sample Taking
4: Simple Diagnostic Tests
5: Veterinary Equipment
6: Veterinary Medicines
7: Vaccines
8: Sedation, Anaesthesia, Surgical Conditions and Euthanasia
9: Nutrition and Metabolic Conditions
10: Gastroenteric System
11: Respiratory and Circulatory System
12: Urinary System
13: Reproductive System
14: Neurological System
15: Locomotory System
16: Skin Conditions
17: Poisons
18: Sudden Death and Post-mortem Techniques
19: Zoonotic Diseases
20: Herd and Flock Health Plans
Readership
A valuable field guide for veterinary practitioners and students covering the latest treatments for common conditions found in Sheep and Goats across the globe.
Reviews
Have you read this book, or used it for one of your courses? We would love to hear your feedback. Email our reviews team to submit a review.
Like most websites we use cookies. This is to ensure that we give you the best experience possible. Continuing to use
CABI.org
means you agree to our use of cookies. If you would like to, you can learn more about the cookies we use
here
.
Privacy Overview
This website uses cookies to improve your experience while you navigate through the website. Out of these, the cookies that are categorized as necessary are stored on your browser as they are essential for the working of basic functionalities of the website. We also use third-party cookies that help us analyze and understand how you use this website. These cookies will be stored in your browser only with your consent. You also have the option to opt-out of these cookies. But opting out of some of these cookies may affect your browsing experience.